A Passionate Blend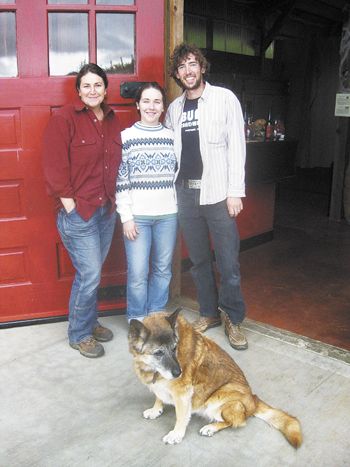 By Stuart Watson
Rachael Horn believed she wanted to be a teacher. Her parents were teachers. Her sister is a teacher. As passionate as she is about education, however, her first year in the public schools taught her something: waiting tables pays more and offers better hours for raising children.
Restaurant work introduced her to wine — to get her first job as a teenager, she memorized the restaurant's wine list — and wine introduced her to winemaking. Now, in a bit of role reversal, wine has become her teacher, and she's the student.
"Wine is an excellent teacher; it teaches you about patience," said Horn, the winemaker and partner in AniChe Cellars, based on Underwood Mountain on the Washington side of the Columbia River Gorge. "It teaches you that artistry requires more than the numbers in a laboratory."
After bouncing back and forth between college in Southern California, time for her husband's studies in Bellingham, Wash., back to California for the dalliance with teaching, and finally to the Columbia River Gorge, Horn found herself back in a dining room.
"I was waiting tables at the Columbia Gorge Hotel, pouring a local wine, and I was very passionate about it, and the customer I was pouring for said, 'You are so knowledgeable and passionate about wine, why don't you make it?'" Horn recalled.
"It was one of those epiphany moments," she said. "The sky opened. I walked around with my jaw open for a week. There was no reason not to [make wine]. So I started a plan, quit my job and planted vines [in 2008]."
Fortunately, five years before, she and husband, Todd Mera, had purchased a five-acre slice of the former Ziegler Estate on Underwood Mountain.
Ziegler Vineyards is just uphill, and downhill is the massive new Columbia River View vineyard being developed by S.D.S. Lumber. Even more impressive is Horn's nearby neighbor Rick Ensminger and his venerable Celilo Vineyards, a grape source for many of the local labelsand quite a few outside the Gorge.
Once Horn had made the decision become a winemaker, she returned to formal education, applying to and gaining admittance in 2009 to the Washington State University Viticulture and Enology certificate program. Good things come in clusters, including a license and the winery's first crush that same year.
AniChe — the name conflates parts of the names of her daughter Anais Mera and son Che Horn — celebrates family involvement. Todd, when he isn't driving a forklift, works a "day job" in technology with Quest Software, and has his own company, Award Wallet, which aggregates travel program awards and points. Anais is also studying viticulture, and with her fiancé, Tom Dixon, runs a small catering company. Niece Brittany Duronslet staffs the tasting room.
Horn focuses on the wine, and more specifically, the blend. "I'm all about blends, blends, blends," she said. "After years of representing wines in restaurants, and trying so many wines, I figured out that the wines I really love are almost always blends."
This conclusion would come as no great shock to European winemakers, but Americans love to celebrate individual varietals. "The tradition of winemaking is all about blending; it's the essence of a good Bordeaux or Châteauneuf-du-Pape. Most grapes are cultivated with the idea that another grape will fill in the gap."
Survey her tasting lineup, and you discover Rhone blends of Grenache, Mourvedre and Syrah, another of Syrah and Viognier, a Tempranillo-Grenache blend she calls Orlando, a Piedmont blend of Primitivo and Barbera, and her nod to Bordeaux: a mix of Cabernet, Merlot, Cab Franc and Petit Verdot.
She professes a preference for reds — "I'm just not a white girl; I'm very passionate about reds" — which explains why her lineup in the future will drop Pinot Gris and its Riesling-Gewürztraminer blend, and feature only two whites. One is a Rhone blend of Rousanne and Marsanne, and the other a marvelously peachy Albariño.
AniChe produced 2,200 cases in 2010 and expects to release 1,800 cases in 2012. With some expansion of existing facilities, Horn believes they can get to 6,000 cases in five to six years.
"The winery is a big horse barn built about 15 years ago," she said. "We had horses in it for a while but decided to go into another money-losing venture. The good thing about a winery, though, is that at the end of the day, you can drink your wine."
WINERY DETAILS
AniChe Cellars
Address: 71 Little Buck Creek Road, Underwood, WA
Hours: noon to 6 p.m., Wed.–Sun.
Phone: 360-624-6531
Website: www.anichecellars.com