Around the World in 80 Harvests
Globetrotting writer arrives in Willamette Valley
As I began planning my trip to Oregon, I had the feeling winemakers were starting to feel the pressure by mid-summer. It isn't that hard to read between the lines with winemaker e-mails. Most of them are short, and the mood can swing wildly between positively breezy to downright distressed.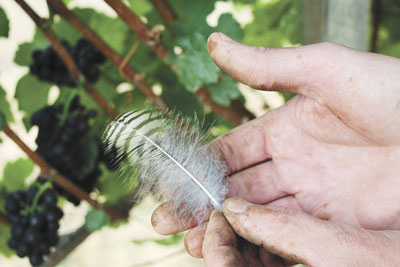 The conversation tone would have suggested the writing was on the wall for another hot vintage in Oregon, pushing everyone to the edge. But the mood changed when I arrived at the end of August. A couple days of rain and a dip in temperature had not only quenched the thirsty grapes, but also revitalized winemakers' spirits.
Most wine writers have a bit more tact than to try to visit a winemaker when they are in their busiest period of the year. Not me. I came to Oregon with the sole reason to see the harvest, to smell the fermenting grapes and to gauge how the vintage is shaping up. Inevitably that comes with feeling the tension simmer.
And it's not just one harvest I'm after, or one winemaker I'm pestering. I'm going for 80 harvests. And that implies around 800 agitated winemakers.
My mission is to travel "Around the World in 80 Harvests," producing a multimedia project of discovery into what makes each wine region unique and taking a picture of the world of wine today. Over three years, I'm visiting 80 regions in 42 countries, spread over six continents, including big names such as Burgundy, Piedmont, Champagne and Mosel, as well as lesser known regions like Shandong in China, Dodoma in Tanzania, Krasnodar in Russia and Yamanashi in Japan.
I've completed my South America tour, where we visited various regions in Chile and Argentina as well as the wine regions of Brazil, Uruguay, Peru and Bolivia. In August, I started on North America's harvests, which is what brought me to Oregon this fall.
It was my first time in the area, and so, thanks to Becca Barnhart at the Willamette Valley Visitors Association — along with the Oregon Wine Board and Travel Oregon — I had a few helping hands and local experts showing me the highlights of the region to get to grips with what makes Oregon unique in the world.
The Willamette Valley's position between extreme coastal and continental climates is certainly unique, as are the two mountain ranges which tell the story of the valley's formation and soils. Geology and climate were, of course, parts of my discovery, but what struck me most about Oregon is how much people value the outdoors; it really translates into the attitude toward winemaking and viticulture.
So far in my travels, the Willamette has easily been the region with the greatest commitment to sustainable and "green" viticulture. I visited many Biodynamic producers from small productions like Beaux Frères to large ones like King Estate. I visited advocates of sustainability programs like the LIVE program explained to me by Ben Casteel of Bethel Heights; and I visited winemakers like Jason Lett of Eyrie Vineyards who believe you should have confidence in the vines' natural ability to defend themselves and find balance, with minimal human intervention.
There's no doubt there is a strong viticultural commitment in the Willamette Valley to harness strength in the vineyards and be careful not to overpower that in the winery. There's a purity of fruit to these wines that not only reflects the soils and climate, but also the people making the wine: an essential component of Oregon's terroir.
As a region that went from a handful pioneers to more than 600 wineries in less than 50 years, the Willamette Valley has an extremely sharp growth curve when you put it in the context of world wine regions and history.
One of my most valuable conversations was with octogenarian Jim McDaniel, a fifth generation Oregon local. He planted his first vineyards in 1971, inspired by a newcomer in town, David Lett, who had bought his old poultry plant for a makeshift winery. From there, he has seen the wine industry snowball in an unimaginable way. His insight of 88 years in the area, from the birth of the industry to today, spoke more to me than the many soil studies I asked for. In the case of the young wine region, it is still people who have the deepest roots.
And it is exciting how more people from all walks of life are laying down roots in this young and developing wine region. From the conversations I had, it seems the Willamette Valley has an almost magnetic attraction. I met many vintners, like Dave Specter from Bells Up and Ronni Lacroute from WillaKenzie, who came to the region to make wine not only for the excellent winemaking conditions, but for the lifestyle and community. It called them home.
That sense of local identity and pride shared by old and new is unique.
I left with a memorable taste of the Willamette Valley in my mouth, and drove over the beautiful Columbia Gorge into Washington, where I am writing this now before I head up to Canada and onwards to more wine regions in Mexico, the U.S., Canada and beyond.
Meeting and interviewing winemakers, agronomists and locals is key to my project. They are the central pillar to understanding a wine region's terroir. You can tell only so much by looking at a plant or tasting a wine. It's really the people of the place who can tell you how that plant behaves during the year and how that wine evolves over time.
Through those different wine communities, we can also recognize and appreciate what makes each wine region distinct from others. As I meet new people in each location, I'm also keen to have those from the already-visited wine regions continue to have a voice. I would love for you to join me on the journey and share your own unique Oregonian perspective on the other wine regions around the world we're visiting — through comments, social media and sharing the stories to encourage more conversation.
There are many uncertainties about my global journey — just as the nature of winemaking — but one thing is certain: It is the people who show what's unique in each wine and region. And that's why it is also certain I'll continue to bother winemakers every stop of the way.
You can visit "Around the World in 80 Harvests" on www.80harvests.com, where you will find my articles on the region, as well as video interviews with local winemakers and characters. Please follow and participate in the journey on social media @80harvests on Instagram, Twitter and Facebook.