Appellation Pinot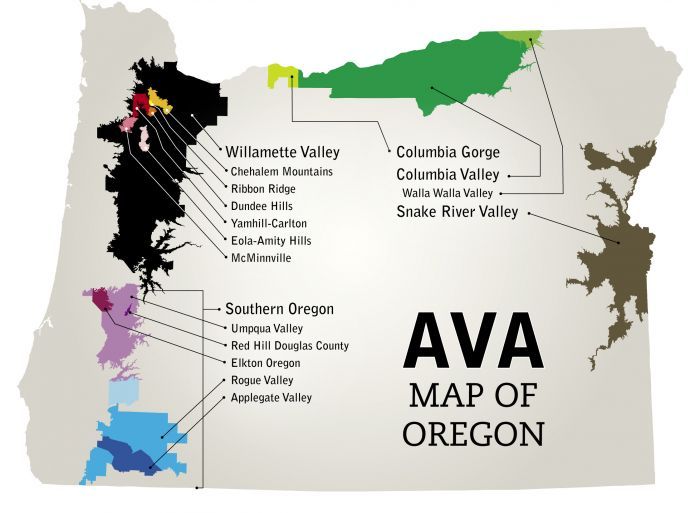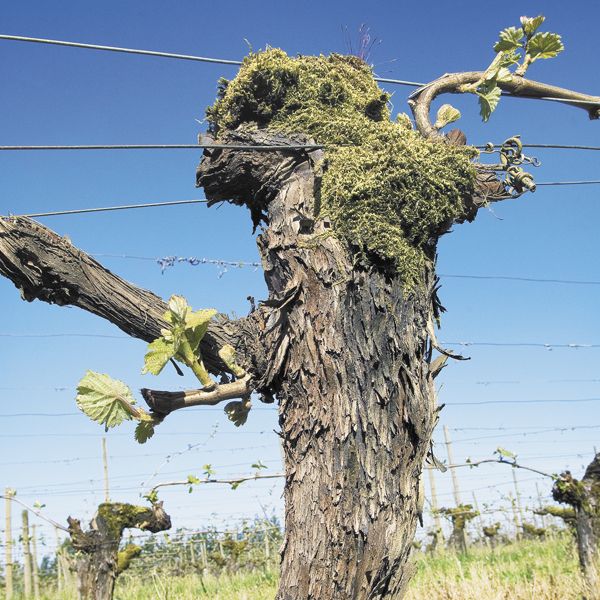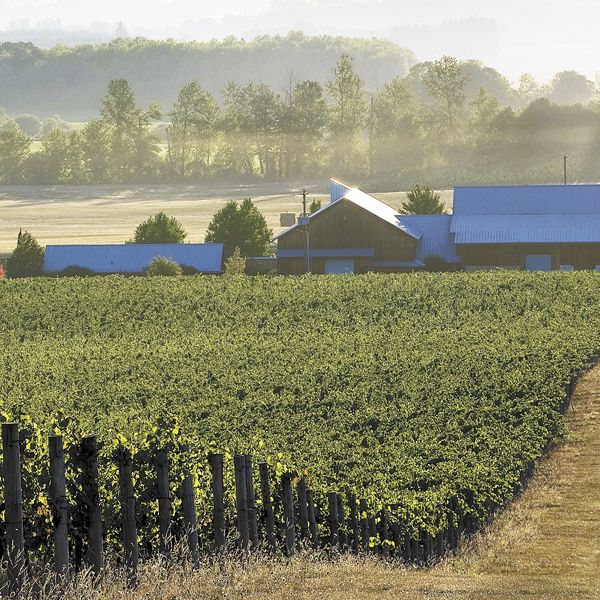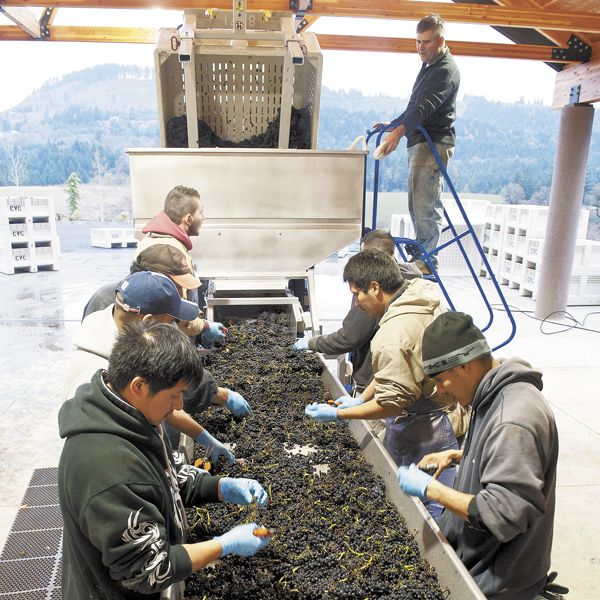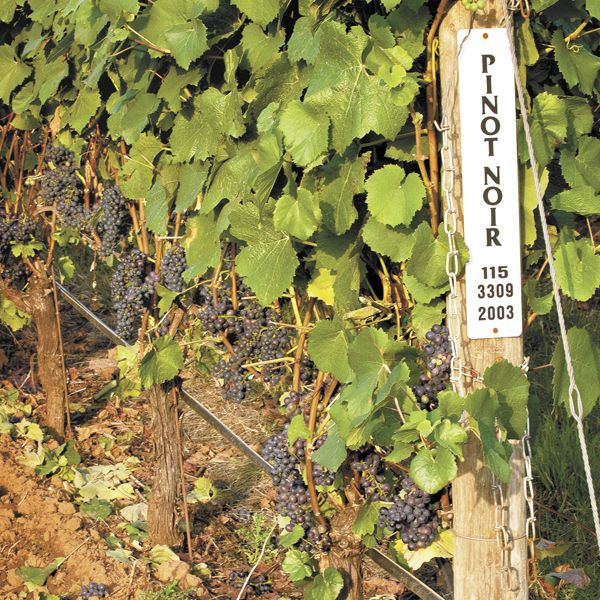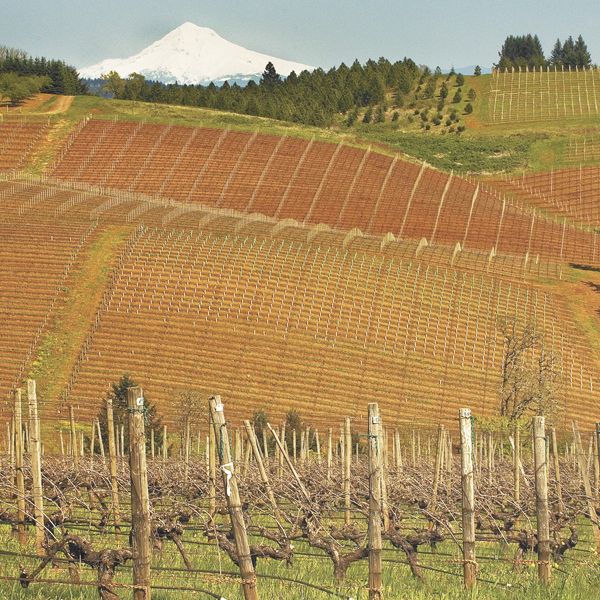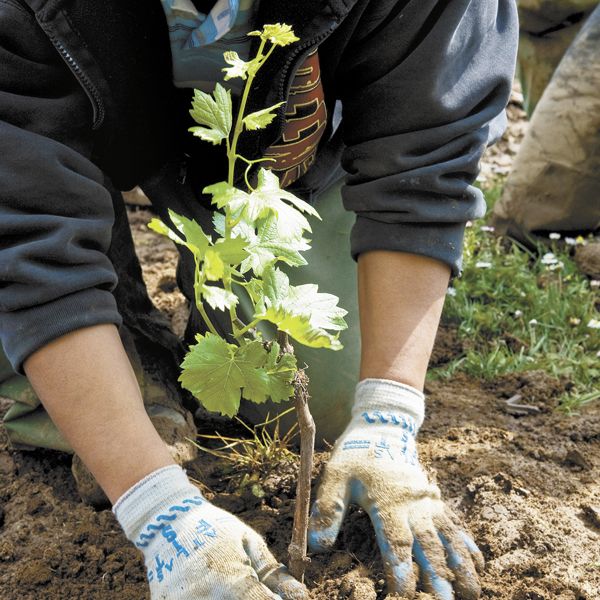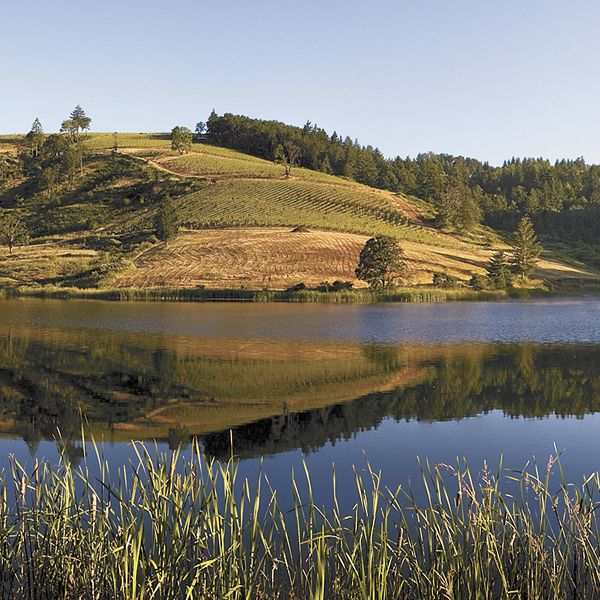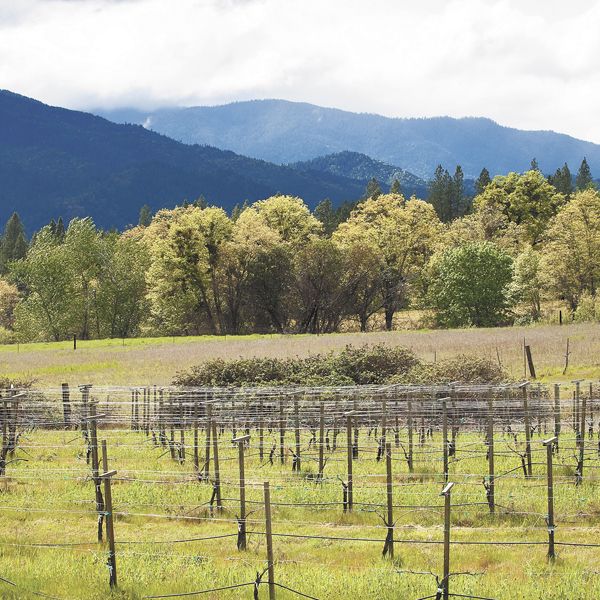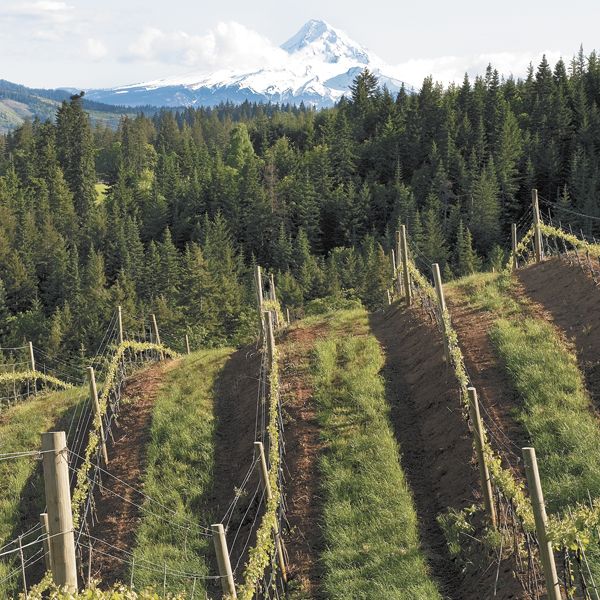 Story by Jade Helm | Photos by Andrea Johnson
Pinot Noir is a transparent grape, meaning that it readily reflects the characteristics of the place it is grown." This is the expert assessment of Scott Burns Ph.D., a geology professor at Portland State University who has studied the influence of soil on grapes in wine regions worldwide. He is currently overseeing a study of differences among wines produced on the major soil types of the Willamette Valley: Jory, Willakenzie, Laurelwood and Nekia. Dr. Burns believes, "Willamette Valley is the number one place to taste the difference in terroir."
Soil is only part of the story of Oregon wines. The French word terroir encompasses all physical attributes of an area. The borders of American Viticultural Areas (AVAs) distinguish winegrowing regions sharing commonalities in climate, geography and geology. These similarities affect the grapes, thus the wine. By definition, the mention of AVAs on the label, such as Willamette Valley or Southern Oregon, should indicate something about the wine. But what do they imply and what differences can one really taste?
Who better to explain the influence of soil, climate and topography on taste than the people with wine-stained fingers and boots thick with vineyard mud? Oregon Wine Press asked the experts — winemakers, owners, vineyard managers — three questions about Pinot Noir in regard to their individual AVAs:
1. What unique attributes are expected in your AVA's Pinot Noir?
2. What physical aspects of the AVA contribute to these unique attributes?
3. How does your Pinot Noir reflect a specific vineyard site within the AVA?
Willamette Valley (Greater)
The Willamette Valley, 150 miles long and up to 60 miles wide, is Oregon's largest AVA. It runs from the Columbia River in Portland south through Salem to the Calapooya Mountains outside Eugene.
Named for the river flowing through it, the Willamette Valley is home to the largest concentration of wineries and vineyards in Oregon, including six sub-appellations: Chehalem Mountains, Dundee Hills, Eola-Amity Hills, McMinnville, Yamhill-Carlton and Ribbon Ridge.
The Willamette Valley is protected by the Coast Range to the west, the Cascades to the east and a series of hill chains to the north. The area's mild climate combined with coastal marine influences makes for gentle growing conditions ideal for cool-climate grapes like Pinot Noir.
The Valley's location results in more daylight hours during the growing season than any part of the state, and the warm days transitioning to cool nights allow the grapes to develop their flavor and complexity while retaining natural acidity.
An old volcanic and sedimentary seabed, the Willamette Valley has been overlaid with gravel, silt, rock and boulders. The predominate volcanic soil is Jory, found above 300 feet elevation. Between four and six feet deep, Jory provides excellent drainage for superior quality fruit, including Pinot Noir.
Pinot Profile
Josef Fleischmann of St. Josef's Winery, near the northern end of the AVA, knows terroir gives his wines their Pinot profile. "We have marine sediment soils that, combined with cool climate, make great characteristics in wine: ruby color, medium body, light red fruit upfront and long finishes," he says. "The wines are nimble with food — not overbearing. We think of subtlety instead of power."
Ben Howe of King Estate, near Eugene, describes the complexity and layered flavors in the southern end of the Willamette. "The Pinot Noirs from the Willamette Valley exhibit layer upon layer of character that consist of fruit, floral, spice, herbal and earthy attributes."
Howe points out the balance and harmony. "Often, the attributes are very complementary, and the wines evolve in the glass."
He agrees Willamette Valley Pinot Noirs are easy to pair with a wide variety of foods, crediting complexity and pH. "The acidity of the Pinots can help cut through fattier foods as well as create the ability for the wines to age."
Physical Effects
Fleischmann explains the challenges of the area: "Our growing habits and weather cycle are both our curse and our blessing. Due to our climate and less sunshine in the early summer, our ripening days are also a bit less. Since Pinot Noir is fickle, we need to grow it at small cropping levels — less than three tons per acre in many cases. Compare that with double or triple in warmer climates.
"This [lower yield per acre] makes the wine have much more character and finesse," Fleischmann continues. "Since we all could be growing grapes in areas with lots of sunshine and less headaches; we have to tend our fruit with much more care; it makes us crazy winemaking Oregonians."
Howe details the effect of climate on sugar content and flavor development in the grapes. "The flavor development curve and the sugar development curve are related to one another, but they don't necessarily [progress at the same rate]. In the best years, the length of the growing season allows the sugar content in the grapes to ultimately wind up in sync with flavor development. The cool evenings generated from the maritime influence also help preserve acidity."
Site Specifics
Fleischmann highlights a site favored by both Pinot Noir drinkers and birds. "Our Starling Hill block is a southwest-sloping site that we planted 30 years ago on Jory loam," he says. "The old Pommard vines add a rich character and earthiness. We know the fruit from that hillside is the best because it is what the birds like to eat… hence the name 'Starling Hill.'
"Since we are in the shadow of the Cascade Foothills, we get a hot summer patch of heat and cooler nights in the fall, which concentrates the flavors."
St. Josef's Winery also harvests less than three tons per acre, hand-selects fruit and is Salmon Safe and LIVE certified.
For King Estate, it's the site's cool factor that translates to longevity in the cellar. "The estate vineyard is a cooler site with higher elevation than most vineyards in the AVA," Howe notes. "This creates exceptionally cool nights where there is a higher acid retention. Our Pinot Noir comes in late, at the end of the season and is rarely perceived as overripe.
"Flavors trend towards raspberry, pomegranate, violets and baking spices," Howe continues. "Our Pinot Noir is often described as elegant and age-worthy, and we find consistently that as we open bottles 10 years and older, they show incredible development in flavor and complexity."
Chehalem Mountains
Chehalem Mountains AVA, a sub-appellation of Willamette Valley AVA, is 19 miles southwest of Portland and 45 miles east of the Pacific Ocean. Wide ranges in elevation result in varied annual precipitation — 37 inches at the lowest point; 60 inches at the highest — as well as the greatest range in temperature within the Willamette Valley. This can result in three-week differences in the ripening of Pinot.
Pinot Profile
David Adelsheim of Adelsheim Vineyards explains how diversity makes it a special appellation. "The Chehalem Mountains AVA is the largest of the north Willamette sub-AVAs. It includes three major soil types, vineyards at elevations from 230 feet to over 1,100 feet, and similarly huge variations in rainfall, wind and exposure," Adelsheim says. "It even includes, in its entirety, the smallest of the six northern Willamette sub-AVAs: Ribbon Ridge.
"With an estimated 150 vineyards planted within our boundary, we have the largest number of vineyards in any Oregon AVA — except, of course, the Willamette Valley as a whole," he continues. "This patchwork of small, primarily family-owned vineyards on varying soil types and elevations makes for an exciting source of exquisite wines in huge variation."
Adelsheim notes some commonalities among Chehalem Mountains Pinot Noir. "They are always earthy, spicy and generously fruited. In each wine, you'll find honest reflection of the vintage and the vineyard."
Physical Effects
Adelsheim explains how wineries use diversity within the AVA to their advantage. "Our three distinct soil types — Columbia River Basalt (primarily Parrett Mountain and the great landslide area), Marine Sediment (primarily Ribbon Ridge and Calkins Lane) and Ice Age Loess (wind-blown silt mostly on the northeast flank in the Laurelwood area) — combined with important variations in elevation form terroirs that allow for grape diversity. We are able to focus on the varieties that are best-suited to our differing soils and meso-climates and can produce quality in a wide variety of Pinot renderings. In a nutshell, diversity equals quality."
Site Specifics
Regarding the diversity in his own Pinot Noir, he says, "At Adelsheim, we have three estate single-vineyard Pinot Noirs from the great landslide region, one from the Calkins Lane region, and one from Ribbon Ridge. We also have a grower single-vineyard Pinot Noir from Laurelwood area and another from Ribbon Ridge. All are from sites within the Chehalem Mountains AVA, and every one is different, largely due the particular characteristics of each site."
Luisa Ponzi of Ponzi Vineyards explains how the relationship between soil and vine age makes a difference: "Our vineyards are located on the east-facing slope of the Chehalem Ridge where Laurelwood soil predominates. Young vines, whose roots subsist in the sedimentary top soil, express very different flavors and aromas than the older vines which have reached the basalt layers of the soil.
"My favorite Pinots come from those older vine sites," Ponzi explains. "They show a floral component of violets and rose petal, a strong spice aromatic tending toward white pepper or ancho. The palate is broad, spicy, dark-fruited with chewy tannins and a backbone of acidity maintaining elegance."
Ribbon Ridge
Ribbon Ridge is contained within the Chehalem Mountains AVA — itself a sub-appellation of the Willamette Valley AVA. Protected on three sides by geographical features, the area enjoys a moderate climate slightly warmer and drier compared to the adjacent valley floors. This climate is well suited for early grape growth in spring, even ripening in summer, and a long full maturation in the fall. The low fertility soils are ideal for growing high quality wine grapes.
Pinot Profile
Harry Peterson-Nedry of Chehalem Wines planted the first wine grapes on Ribbon Ridge at his Ridgecrest Vineyards. "Ribbon Ridge fruit from our Ridgecrest and Wind Ridge vineyards exhibits dark elements, characterized by black cherry to blackberry and, at times, to black currant/cassis," he says. "Based on vintage, ripeness and winemaking approach, wines can run a full range from rustic, deep and moderately tannic to ultimately elegant and full of finesse. They can be meticulously balanced and usually exhibit hints of brown spices such as clove, cinnamon and even licorice, along with chocolate and coffee in certain vintages. Wines are exceptionally ageable due to balance, lower pHs and higher acids from the high elevation sites."
Physical effects
Peterson-Nedry attributes the style of Pinot Noir to soil, elevation and dry farming. "Ribbon Ridge's ocean sedimentary soils can be credited for the consistently black and balanced wines. Besides the soil's geological makeup, the soil depth, water-holding capability and low fertility help characterize the location. Elevation of our vineyards also makes it late ripening and acid retaining. With no permanent irrigation capability on this dry ridge, vintage differences can be dramatic."
Site Specifics
Peterson-Nedry remarks on established vineyards and "vintage" winery owners. "Ridgecrest is the oldest vineyard on Ribbon Ridge, vines being 34 years old this year. I often pooh-poohed vine age when my vineyards were younger, but now understand they DO get better with age — unlike its owners.
"The barrel-selected best wines of Ridgecrest are the ultimate in feminine, elegant, complex, full-finesse Pinot Noir," he explains. "They are not depending on power to make a statement. They start well, but slowly, and age forever due to the elevation, acid, smaller yield, later harvest date, soil-derived nuances and perfect vine balance.
Dundee Hills
Dundee Hills is a sub-appellation within the Willamette Valley, located 28 miles southwest of Portland and 40 miles inland from the Pacific Ocean. The Coast Range creates a rain shadow over the AVA, shielding it from much of the Pacific Ocean's heavy rain and windstorms. Annual rainfall is relatively low at 30-45 inches per year. The elevated hillside vineyards experience warmer nights and less frost and fog than the adjacent valley floor.
Pinot Noir is the primary grape grown in this cool-climate AVA. Dundee Hills is known for its rich, red volcanic Jory soil, which was formed from ancient volcanic basalt and consists of silt, clay and loam soils.
Pinot Profile
Paul Durant of Durant Vineyards believes Dundee Hills Pinot Noir is quite distinctive. "Sommeliers and knowledgeable wine consumers can readily pick out Dundee Hills Pinot Noir from the bouquet," Durant says. "They tend to be more delicate and sophisticated in structure. Tannins and acids integrate well and add to the complexity and signature."
For Alex Sokol Blosser of Sokol Blosser Winery, simply put, red fruit characteristics — cherry, raspberry, currant — mark Dundee Hills Pinot.
Physical Effects
Durant attributes Dundee Hills Pinot's distinctive qualities to terroir and experience, too. "The volcanic Jory soil adds a unique signature to the wine. Our specific vineyard is in a microclimate that allows our fruit to ripen somewhat earlier and that can be a good thing in cooler vintages. This is one of the oldest wine growing regions in Oregon. Consequently, I believe our farming methods and intuitive knowledge of our vines and growing conditions elevate the overall quality of our wines."
Site Specifics
Durant describes the history of his family's six-acre Pinot Noir vineyard block named Bishop, which they planted to the Pommard clone: "Planted in 1973 and 1984, Bishop is named after the original owners of the property, from whom my folks purchased the land. This wine tends to be a bit of a laggard in the cellar. It is not showy or flashy. But year after year, decade after decade, the wines from Bishop evolve into some of the best we have ever produced."
Sokol Blosser characterizes the winery's estate Pinot Noir as "a blend of some of our most interesting barrels from the vintage from our 86-acre estate. Great structure, red fruit and acid balance are always in play with every vintage of this wine."
Yamhill-Carlton
Yamhill-Carlton is a cool-climate sub-appellation of the Willamette Valley AVA centered on its namesake towns of Carlton and Yamhill. It is located 35 miles southwest of Portland and more than 40 miles east of the Pacific Ocean. The AVA receives less rain because it is protected by the Coast Range, Chehalem Mountains and Dundee Hills.
Pinot Profile
Ken Wright of Ken Wright Cellars, known for touting terroir, offers a detailed description of what he considers Yamhill-Carlton Pinot: "Pinot Noir develops deep ruby color and broad silky tannins. The mouth-filling wines exude powerful fruit aromas of raspberry, blackberry and black cherries, framed by minerality reminiscent of pipe tobacco, espresso, clove and dark chocolate and accented by scents of rose, violet, lavender and sweet wood smoke. These are alluring, complex, supple gems of Pinot Noir to sip and savor."
Dick Shea of Shea Wine Cellars adds, "The Yamhill Carlton AVA is known for floral aromas, particularly violets. On the palate, flavors are ripe and earthy. Fruit is usually in the blue-black range."
Physical Effects
Yamhill-Carlton's soil is key; its marine sediment is estimated at 45 million years old. According to Wright, this ancient material contributes "spice and floral elements" at a higher level than in other soils. Wright also points out that Pinot Noir grown in these soils have less acidity and make earlier drinking wines. The soil drains quickly, which causes vegetative growth to stop earlier, decreasing shade from the vine canopy and diverting the plant's energy into ripening the fruit.
Shea adds that the underlying sandstone soils are easy to penetrate. "The roots go deep and access water allowing for dry farming." This also aids earlier, complete ripening. "Since we dry farm, our fruit and wine show the nuance of every vintage," Shea explains.
Site Specifics
Shea, whose soils and dry farming methods are indicative of the AVA, finds the distinction between Shea and other Yamhill-Carlton vineyards lie the subtleties. "In some years and from some parts of the vineyard, we get red fruit notes mixed in with the blue, black fruit," Shea says. "The vineyard is in a protected pocket from the wind and rain, so we tend to get our fruit a little riper; that can be really important in years when the autumn rains begin early. Picking at different degrees of ripeness and concentration also affects the final wine."
Wright acknowledges the various expressions of Pinot in regard to his six vineyards in the Yamhill-Carlton AVA. "Though they certainly have common traits, being from the same region, there are subtle but noticeable differences. The mineral makeup of each of the six sites is unique to each. The vine uptakes these trace elements and that array of elements influences the aromatic and flavor profiles of the wine. What makes Pinot Noir incredibly special is the ability of the plant to connect you to place through this process."
Eola-Amity Hills
Eola-Amity Hills is a sub-appellation of the Willamette Valley AVA, located west-northwest of Salem. Rainfall, an annual average of 40 inches, occurs mostly outside the growing season. Warm summers and mild winters make this area ideal for cool-climate grapes like Pinot Noir.
Pinot Profile
Mark Vlossak of St. Innocent Winery plots Willamette Valley Pinot Noir on a spectrum. "Dundee Hills has the most red fruit, perfume and suppleness; while McMinnville has the darkest fruit, most savory spice, and most exotic tannin structure." He places Eola-Amity Hills at the midpoint with a "mixture of red and dark red fruits, a pronounced spice character and a bit darker, more rustic tannin structure."
Pat Dudley of Bethel Heights Vineyard attributes the darker fruit of Eola-Amity Hills Pinot to the shallower soils. "Firm acidity and dense tannins give [the Pinot Noir] a sense of high energy." And she credits the "drying and cooling effect of the winds that give the region its name." Dudley says the wines express the mineral content of the terroir and favor primary fruit character over spice.
Physical Effects
The physical description of this AVA begins with the impact of the Van Duzer Corridor, which floods the Eola-Amity Hills with cool ocean winds that drop temperatures, sometimes as much as 30°F.
"These winds are so much the defining feature of the region that the hills were named for Aeolus, the keeper of the winds in Greek mythology," Dudley says.
Vlossak explains the importance to the grapes, "The moderate daytime temperatures promote even ripeness and build ample, round tannins. The sudden cooling at night retains acidity in the wines, giving them a bit more backbone and accentuating the spice character."
Many attributes of the wines are linked to the soils. Vlossak, "Unlike the other AVAs, the Eola-Amity Hills has both volcanic (higher elevations) and sedimentary soils (lower elevations), so the spectrum of wine is broader because of the effect of soil structure on plant nutrition and water availability."
Dudley further explains, "The volcanic soils are typically of the Nekia series, which are characteristically shallower and rockier, and therefore better drained than the deeper Jory volcanic soil in other parts of the Valley."
"In these conditions — cool nighttime temperatures and shallow, well-drained soils — Pinot Noir can safely ripen on the vines far into October, regardless of heat or rain, reaching full flavor potential without losing the bright acidity and fine-grain tannins that give great Pinot Noir its structure and balance."
Site Specifics
"Our Zenith Vineyard wine comes from the lower elevations on the east side of the central 'dimple' in the Eola-Amity Hills," Vlossak says. "Grown on old, thin, sedimentary soil, the site faces southeast and southwest. It is moderately warm and mostly protected from afternoon heat by the hills to the west.
As for the flavor profile, Vlossak describes it as "a mixture of red and dark-red berry fruits and sweet ground spices; it has lovely freshness on the palate with round tannins and a bit of density and weight that extends into the finish."
Bethel Heights estate-grown ÆOLIAN Pinot Noir is named for the winds that define the AVA. Dudley describes the wine: "Sourced primarily from our second-generation vines planted at Bethel Heights in the '90s, this is the epitome of new generation Pinot Noir: powerful, youthful, focused and energetic."
McMinnville
McMinnville is a sub-appellation of the Willamette Valley AVA, just west of the city, approximately 40 miles southwest of Portland and extending 20 miles south-southwest. The position of this AVA relative to the ocean and Coast Range affects temperatures and rain. Rainfall can be significantly less than nearby sites — 33 inches compared to 40 inches in Eola-Amity Hills. A 2,000-foot thick bedrock, the Nestucca Formation, contains intrusions of marine basalts, affecting the groundwater composition and resulting in unique flavor and development characteristics in the grapes.
Pinot Profile
Scott Neal of Coeur de Terre Vineyard and Wayne Bailey of Youngberg Hill both described the dark, black fruit flavors and earthy tones, structure, intensity and depth of McMinnville Pinot Noir. Neal says that most McMinnville wineries focus on highlighting their estate grown fruit, manifesting "unique characteristics of their location and style."
Bailey adds, "A little higher acidity adds balance and structure, making [McMinnville Pinot Noir] very food friendly."
Physical Effects
The proximity of this AVA to the Van Duzer Corridor is a major influence on McMinnville's style of Pinot.
"McMinnville is the most westerly of all the Willamette Valley AVAs," says Neal. "[The AVA's] southwestern edge abuts the foothills of the Coast Range at the Van Duzer Corridor, which is the lowest pass to the ocean in the mountain range."
"As the weather rushes in through the [Van Duzer Corridor], the Coast Range decreases the rain reaching the AVA," Bailey says. "The coast breeze blows in every afternoon at 3 p.m., producing a cooling and drying effect. There is also typically more sunshine, even in the rainy months." All these factors result "in a longer ripening period, allowing the grapes to develop complex flavors and retain balancing acidity," Neal adds.
Diversity of soils is another influential factor. "Our AVA has some of the oldest marine sedimentary soils consisting of around 24 inches of top soil with ancient volcanic intrusions along with a minor volcanic influence from the Cascades," Neal explains. "These factors, along with a very sustainable approach by our growers, yield wines of intensity."
Site Specifics
Neal describes how wines from Coeur de Terre Vineyard capture time and place. "Like the AVA itself, Coeur de Terre has an amazing palette to work from due to the diversity of our terrain and our soils. We have both sedimentary and volcanic intrusion type soils on our 100-acre estate. We have elevations that range from 300 feet at the bottom of our estate, up to 600 feet at the top along with varied exposures from southwest, due south to southeast.
"We endeavor to highlight the textures and fruit compositions derived from this array of soils, elevations, temperature and wind profiles," Neal says. "Renelle's Block Pinot Noir consistently exhibits blue fruit tones and muscularity. Tallulah's Run Pinot Noir has a pretty red/black fruit tone and silky structure. Abby's Block always starts more subdued, and then, over the years, blooms into a refined wine with deep layers of spice, earth and fruit. Finally, Sarah Jane's Pinot Noir displays more classic tones of black fruits and spice overtones.
Neal concludes, "I believe that Coeur de Terre Vineyard celebrates the many styles of Pinot Noir that comes from our vineyard and the AVA overall."
Youngberg's flagship Pinot from the vineyard's Jordan Block is special for several reasons. "Named after our middle daughter, this block sits between 700 and 800 feet altitude on Steiwer soil, which is uncommon. The soil is shallow and mostly volcanic rock and at the higher altitude, temperatures are typically two degrees cooler throughout the growing season.
"This is the last fruit we harvest, usually around the 25th of October," Bailey says. "The vines are 25-year-old ungrafted Pommard clones. The wines express intense black fruit characteristics with strong earthy overtones of flint, cocoa and leather. They are higher in acids and tannins, and tend to be bigger wines with great aging potential."
Southern Oregon
Although Southern Oregon AVA is not really known for Pinot Noir — most vineyards are planted to warmer varieties like Tempranillo, Syrah, Cabernet Sauvignon, Merlot — the Burgundian red exists and thrives where it is planted.
The 2.3-million-acre AVA was established in 2004 to join the already established Rogue Valley and Umpqua Valley regions. The vast territory includes a series of high intermountain valleys sharing a warm, sunny, arid climate and contains old, complex soils derived from bedrock.
Umpqua Valley
Umpqua Valley AVA sits between the Coast Range and the Cascade Range, with the Willamette Valley to the north and Rogue Valley to the south. Nicknamed "The Hundred Valleys of the Umpqua," this appellation features wide variations in climate — three zones — and a mix of soil types.
Although the AVA is becoming more famous for its warm-climate successes — Syrah, Tempranillo, Malbec — Pinot Noir is an important, even historical variety for this region: Oregon Pinot Noir was first planted in the Umpqua Valley by Richard Sommer in 1961.
Pinot Profile
Cody Parker of Melrose Vineyards offers his perspective on the AVA's Pinot Noir. "We have been earning the reputation for coming through with quality fruit from even more difficult vintages. With the extra heat that the Umpqua Valley accumulates, the Pinot Noirs are on the cusp of being those jammy California-type wines with a subdued acidity. This type of acid is great for color retention, food pairing and age-ability, while those hot 84°F to 90°F days make it juicy ripe."
Physical Effects
Parker continues, "The majority of the Pinot Noir [vineyards] in the Umpqua Valley are located close to the city of Roseburg, in the heart of upper and lower Garden Valley. These sites are typically on the banks of the Umpqua River. The warmer, drier climate results in a peppery spice in the wines. This area within the AVA is a staple producing region for Oregon Pinot Noir."
Site Specifics
Parker explains how Melrose Vineyard uses the warmer climate to its advantage. "Our winery's all-estate Pinot Noir pushes all of the traditional limits. I strive for wines that are different than 99.9 percent of those produced here in Oregon, with our heat being the enabler to make a stylistic standout. Fruit flavors include ripe profiles of blueberry, strawberry and Marionberry with subtle acidity and spice.
Elkton Oregon
Elkton Oregon AVA is a sub-appellation of the Umpqua Valley AVA — itself a part of the larger Southern Oregon AVA. It is the most northerly and lowest elevation in the Umpqua; most vineyards are below 1,000 feet, with some at 130 to 160 feet. Depending upon elevation, sites contain alluvial or wind-blown silt and siltstone deposits, or marine sediments uplifted to 1,000 feet or more Compared to the rest of the Umpqua Valley, Elkton is wetter and cooler, therefore more suited to cool-climate grapes such as Pinot Noir.
Pinot Profile
According to Terry Brandborg of Brandborg Vineyard & Winery, Elkton Oregon features Pinot Noir with a complex range of flavors and textures. "Most sites have a huge hit of very bright cherry fruit, underlain by an earthy, loamy focus," he says." Acids are refreshing and tannins supple to full, leading to a spectrum of textures and mouthfeel.
He cites a common thread attributable to the cool maritime climate. "Grapes get full flavor development with lower sugars, resulting in lower alcohol, full-bodied wines."
Physical Effects
Brandborg relates geographic influences to the climate. "The most important climate factor is that Elkton is only 142 feet above sea level and only 33 miles to the coast. This gentle gradient facilitates a very strong marine influence funneled inland through a narrow river valley," Brandborg continues. "The area has the longest frost-free growing season in Oregon. The ocean breezes and fog keep summertime highs and winter lows very moderate. The days are temperate, with July/August highs only to 83 degrees on average, nights are cool and winters are not harsh."
Site Specifics
Brandborg's estate vineyard has been monitored as part of an ongoing Umpqua Valley research project. "Every year it is the coolest site within the Umpqua Valley, with the lowest high temperatures and the highest low temperatures, indicative of the strong marine influence. Our estate vineyard is located four miles west of Elkton at 1,000 feet elevation, and 25 miles to the coast. Our soils are marine sediment over a sandstone base and are very red with lots of sea worn basalt. Our Estate Pinot Noir is very distinctive with blueberry, pomegranate fruit notes highlighting a Queen Anne cherry core, with wild herbs, firm tannins and an earthy minerality.
Red Hill Douglas County
Red Hill Douglas County is a single-vineyard AVA and a sub-appellation of the Umpqua Valley. It is near the small town of Yoncalla, about 30 miles north of Roseburg and parallels Interstate 5. The AVA differs from the Umpqua Valley in several ways. The climate is cooler. Daytime average temperatures during the growing season are 75 degrees (compared with 105 degrees farther south. Maritime influences result in a wetter growing region. High elevations make frost rare during the growing season.
Pinot Profile
According to Wayne Hitchings of Sienna Ridge Estate — the only vineyard in the tiny AVA —the appellation's Pinot Noir exhibits a highly desirable combination of acids and fruit. "A superior acid structure with dark fruit flavors produces a well-balanced wine with years of longevity in the bottle," he says. "Our terroir enhances the wine with layers of black cherry, wild plum and notes of blackberry." He adds how acidity allows the wines to complement a wide variety of foods.
Physical Effects
"Our vineyard is planted on 100 percent Jory soil, Oregon's state soil," he says. "These bright red, volcanic loams are well drained with soil depths to 20 feet. The AVA is restricted to 800 to 1,200 foot elevations. We have warm days and cool nights, which build the acid profile. Due to the soil depths, irrigation is not required. The rolling hills allow for great water drainage and produce a frost-free environment."
Rogue Valley
The Rogue Valley AVA is the southernmost winegrowing region in Oregon. It contains three distinct valleys with progressively warmer microclimates, enabling the region to successfully grow both cool- and warm-climate grape varieties. To the west, mountain and ocean influences provide a cooling effect resulting in a suitable climate for Pinot Noir.
Pinot Profile
"It helps to think of Rogue Valley Pinot Noir by looking at a topographical map of Oregon and California," says Bryan Wilson of Foris Vineyards. "Draw a mental line between McMinnville and the Sonoma Coast, and we are midway between them geographically and stylistically.
"Depending upon the vintage, we are a bit plumper, with a slightly softer texture and a little more full-fruited than our winegrowers/neighbors to the north," Wilson continues. "The same applies in reverse from the Sonoma Coast to the north Willamette Valley — a bit more structure, vibrancy, restraint and purity of fruit than coastal California Pinot Noirs. In general, because of our warmer, drier climate, Rogue Valley Pinot Noir excels in cool, late vintages, and we are able to achieve well-ripened fruit even in challenging years."
Physical Effects
Wilson explains climate and temperature. "The Rogue Valley is influenced by the mountain ranges that surround our river valleys. The Coast Range to the West, the Siskiyous to the south and the Cascade Range to the east provide elevations from 1,000 to 2,000 feet. The Rogue Valley does get coastal influences in the westernmost reaches, as the Rogue and Illinois River valleys provide a conduit for Pacific breezes.
"Our growing season gets a later start in the spring and a cooler end of season ripening window than the Willamette Valley due to our alpine influence," he continues. "Diurnal temperature swings are often close to 50°F in the fall, with highs 80 to 90°F and lows, 35 to 45°F."
Site Specifics
The winery's single-vineyard Pinot Noir offering, Foris Maple Ranch, is grown in the Illinois Valley, an alpine region home to Foris Vineyards. "Remote and rugged, surrounded by wilderness: These attributes define our winemaking style. Our goal is to highlight purity of fruit, delicate structure and produce a style that is more feminine than masculine; pretty rather than dark and brooding."
Applegate Valley
Applegate Valley is a sub-appellation of the Rogue Valley AVA in Southern Oregon. It stretches 50 miles north from the California border to the Rogue River just west of Grants Pass. Rainfall is comparatively low — 25.2 inches annually. The hot days and cool nights are ideal for warm-climate varieties. Cabernet Sauvignon, Merlot and Syrah are more prevalent than Pinot Noir.
Pinot Profile
Mark Wisnovsky of Valley View Winery describes the AVA's Pinot Noirs. "They are a bit deeper in color, featuring flavors of ripe plums, black cherry and good structure."
Physical Effects
Wisnovsky shares the benefits and management of growing Pinot Noir in a climate warmer and drier than the Willamette Valley and other parts of Oregon. "The result is fully ripe Pinot Noir every year. Most Applegate Valley vineyards are located at 1,300- to 2,000-foot elevation, which means the warm to very warm days cool down quickly."
Low humidity results in low disease pressure, diminishing the need for sprays. "Vineyard managers have the luxury of thinning leaves to optimize the flavor of the grape instead of for the purposes of disease management."
Site Specifics
Wisnovsky describes Valley View Pinot Noir: "The 2009 Pinot Noir reflects the warm, ripe climate of the Applegate Valley, yet has bright acidity and moderate color."
Columbia Gorge
Just 60 miles east of Portland, the Columbia Gorge Wine region lies in the heart of the Columbia River Gorge, a dramatic river corridor straddling the Columbia River for 15 miles into both Oregon and Washington. This region, which encompasses 40 miles, includes both the Columbia Gorge AVA and part of the Columbia Valley AVA.
Climate variation is great in this AVA, with a range from cool maritime climates with 36 inches of annual rainfall to desert conditions, with only 10 inches of rain per year. This variance allows for the production of a variety of wine grapes suited to different climates, including cool-climate Pinot Noir.
Pinot Profile
Robert Morus of Phelps Creek Vineyards describes the intricate flavors. "Pinot Noir from the Columbia Gorge expresses purity of fruit tones balanced by nice acidity. Phelps Creek Vineyard is sited on ancient volcanic soil (Oak Grove loam) and typically expresses beautiful tones of Lambert cherry, pomegranate and pipe tobacco. Our site brings forward savory rather than 'sweet' fruit expressions."
James Mantone of Syncline Vineyards comments on structure. "Columbia Gorge Pinot Noir tends to be slightly higher in acidity and lower in alcohol than many other regions." He describes flavors of "cranberry, rhubarb and pie cherry, with hints of black pepper."
Physical Effects
Morus describes Columbia Gorge vineyard sites compared to other Pinot Noir-producing regions: "The typical fine Pinot Noir vineyard in the Columbia Gorge sits toward the western end of the appellation (Hood River and White Salmon valleys) with locations on a north-to-south line from Mount Adams to Mount Hood. They are on the cooler end of the appellation enjoying the same relative rainfall as the Dundee Hills and Burgundy (Gevrey-Chambertin).
"In contrast to Dundee, a great Pinot Noir site in the Columbia Gorge typically is higher in elevation at 1,000 to 1,600 feet. This is closer to a typical vineyard elevation in Burgundy," Morus notes. "I believe our high elevation and the often-strong breezes in the Gorge contribute to greater and more rapid evening temperature drop. This evening cooling aids the retention of acidity."
Mantone adds that Columbia Gorge produces fewer heat units than the Willamette Valley and a longer rain-free window. Plus, "volcanic soils found only on Underwood Mountain allow dry farming without dehydration. Grapes are harvested mid- to late-October at potential alcohols of 12.5 to 13 percent."
Site Specifics
Morus comments on the Phelps Creek Cuvée Alexandrine Pinot Noir, named after the winery's French winemaker Alexandrine Roy. "[The Pinot Noir is] deep, layered and multi-faceted with hints of blueberry, cherry and tobacco and characterized with fine tannins and balancing acidity. Texturally large, the savory finish lingers in the mouth."
Mantone describes his Pinot Noir from Celilo Vineyard located on Underwood Mountain on the Washington side. "Celilo Vineyard is at the western limit of being warm enough to ripen Pinot Noir in the Columbia Gorge. [The wine is] bright ruby in color with very pretty aromatics of cranberry, pie cherry and moist earth. [It is] fresh and lively on the palate, with great intensity on a lithe frame."
Walla Walla Valley
Walla Walla Valley is a sub-appellation of the Columbia Valley AVA and lies mostly in Washington State, overlapping into Oregon. Focused more on big reds such as Cabernet Sauvignon, Syrah and Merlot, Walla Walla's emphasis on Pinot Noir is far less compared to other Oregon AVAs. In an AVA known for a warm, dry climate — eight inches of rain in some areas — the influence of the Blue Mountains contributes to the conditions needed for growing Pinot Noir. In the foothills of these mountains, rainfall can reach an average of 20 inches annually and cool nighttime air creates a large diurnal temperature range.
Pinot Profile
Andrew Brown of Watermill Winery, located in Milton-Freewater, finds that Walla Walla Valley generally produces "fruit-forward wines that showcase both varietal and terroir-driven characteristics." He adds these wines tend to have higher alcohol and lower acidity.
Physical Effects
In an AVA "warmer than other regions growing Pinot Noir," Brown views the soil and topography as blessings. "The rolling hills of silt loam give us rich soil and unique cultivation aspects of partial shade and cover that give relief from sunlight and weather exposures. This is a necessity for cooler climate cultivars like Pinot Noir."
Site Specifics
Brown explains the influence of the Blue Mountains: "Our Pinot Noir comes from Couse Creek Vineyard, which is nestled in the foothills of the Blue Mountains at approximately 1,800 feet above sea level on a steep northeast-facing slope. This provides ample air drainage and gives us afternoon shade as we battle the summer heat. The resulting wine features a core of pretty red berry fruit with light accents of earth, herbs and mushroom."
Columbia Valley and Snake River Valley
Not every AVA in Oregon is suited to grow Pinot Noir. These much warmer, drier AVAs, shared with Washington and Idaho, excel with warmer climate varietals instead.
The Columbia Valley AVA encompasses 11 million acres, primarily located in the state of Washington. There is a small section in Oregon that stretches from The Dalles to Milton-Freewater. The Walla Walla Valley, part of which is in Oregon, is a sub-appellation of Columbia Valley AVA. Most of the AVA has a continental high desert climate with hot days, cool nights and six to eight inches of annual rainfall. This growing environment is better suited to warm-climate grapes and produces high quality Cabernet Sauvignon, Cab Franc, Merlot, etc.
The Snake River Valley AVA spans Southeastern Oregon and Southwestern Idaho. Most of its vineyards and wineries are in Idaho. On the same latitude as the Umpqua Valley, Snake River Valley's vineyards are far removed from the influence of the Pacific Ocean and lie at higher elevations — 2,500 to 3,000 feet above sea level. The region experiences four distinct seasons, with summers being hot and dry, tempered by much cooler nights. The lack of rainfall is addressed with irrigation; rot and mold are seldom problems. Autumn rains do not result in under-ripe or diluted grapes. Here, warmer climate varietals such as Cabernet Sauvignon, Grenache and Cabernet Franc reach high sugar levels and retain acidity.
Jade Helm is the primary author of Tasting Pour, a blog about wine, cocktails and food. Her expertise is evidenced by credentials from the Society of Wine Educators (Certified Specialist in Wine) and the Wine and Spirits Education Trust (Diploma in Wine and Spirits).
Some information included in this article was used by permission from the Oregon Wine Board.