The Changeup: All Questions Asked
Chad Stock challenges Valley's status quo
Winemaker Chad Stock enjoys asking questions and challenging orthodoxy. Each wine under his Minimus label is an experiment beginning with the queries: "What if?" and "Why not?"
His projects, never repeated, started in 2011 with a Viognier-Sauvignon Blanc blend aged on the skins in acacia barrels for a prolonged period of time. Since then, 20 more wines have responded to inquiries such as: "What happens if I age Sauvignon Blanc grapes under a cap of flor yeast like sherry?" or "Is reduction in wine necessarily bad?"
Although based in Carlton, Stock resists making wines people imagine from a Willamette Valley winery. His latest experiments, No. 22 "Pinot" and No. 23 "Noir," combine to examine Stock's boldest query to date: "Is Pinot Noir, by itself, the Willamette Valley's best foot forward?"
"Marketing tells us a traditionally made Pinot Noir is the way to go when it comes to selling Oregon wine," Stock said. "I'd rather back off and create wines that make people say, 'Wow, it's delicious; I've never tried anything like that before.' Figuring out how to sell them comes last for me."
In the process, Stock rejects the valley's "Burgundian narrative."
"I'm an American winemaker, but I don't have American grapes to make great wines with, [so] I wrestle with how to make uniquely Oregon wines using European grape varietals," he said. "If I make a great Pinot Noir, the best thing I can say is that I made something like the real thing. Where's the honor in that?"
Furthermore, he thinks Pinot Noir a poor match for the Willamette Valley.
"Clearly, there are a few vineyards where it works, but the majority of it is mediocre," he said. "Our acidic soils matched with long, cool growing seasons, rainless summers and dry farming make for high pH Pinot Noir. High pH leads to premature aging, lack of freshness and the homogenization of taste across the region."
To remedy the situation, Stock claims many winemakers add tartaric or malic acids to their Pinot Noir.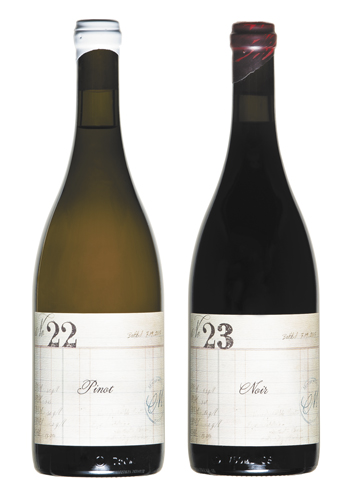 "Nobody talks about acidulation," Stock commented. "The best winemakers do it all the time because they know it needs it. It's one thing to correct a wine imbalance, on occasion, due to a difficult vintage, but when it's done every year no matter what, that should tell us we have the wrong grape variety."
To explore new directions, Stock began co-fermenting multiple grapes.
"Our alternative varietal research has been isolating [each] as single-varietal wines to see what they produce," Stock explained. "In some cases, we have found other red grape varieties with the same pH problems, resulting in a discussion about whether or not a varietal belonged in a region if it didn't produce strong, stand-alone wines.
"Maybe there are lots of grapes with various problems, yet if fermented or blended with other grapes, they could result in something profound," he continued. "The goal should be to make the greatest possible wine, not force some narrative upon the region. We must be able to think objectively to identify what truly works here, and it's likely it will be multiple grape wine co-fermentations."
Minimus Wines No. 22 "Pinot" ($40) is exactly such a wine. Back in 2010 and 2011, Stock was unimpressed by most of the white Oregon Pinot Noirs he tasted. "They were made with under-ripe fruit and lacked any depth or real character. I told myself, 'I would do this differently.'"
In 2016, inspired by the Grand Cru Mambourg wines Sylvie Spielman and Marcel Deiss make in Alsace with various grapes from the Pinot family, Stock did just that. His "Pinot" is a co-fermented blend of Pinot Gris, Pinot Blanc, Pinot Noir, Pinot Meunier and the ultra-rare Pinot Gouges grapes from John and Kathy Zelko's Z'IVO Vineyard. After a brief number of months spent resting in neutral French oak and chestnut barrels, it was recently released to the public.
The "Pinot" fills the glass with a bright moonbeam color, offering the aromas of Mirabelle plums, ripe
raspberries, lemon peel and white tea. Its tannic structure and flavors, such as white grapefruit, lemon, lime and quinine, coat every nook and cranny of the mouth, while bursts of chalk and spearmint combine on a lengthy finish. The label reads 13.9-percent alcohol, and given the wine's rich mouthfeel, I have no reason to doubt it. If you have labored like Captain Ahab in your search for the "great white Pinot," look no further than this wine.
No. 23 "Noir" ($50) was inspired by a wine made by Jura's Jean Bourdy.
"I met Bourdy at a tasting here in Portland, and I loved his blend of Pinot Noir, Trousseau Noir and Poulsard. Bourdy said it was a perfect reflection of vintage and terroir and that he always tries to keep it an equal-parts blend."
Stock suspected Gamay Noir might help offset the high pH woes of Pinot Noir; along with some Trousseau Noir from Omero Vineyard, he created his own three-way blend.
"Besides," said Stock, "we don't have any Poulsard here yet, so Gamay Noir it was."
The "Noir" tastes superb. If it's the kind of red Oregon becomes known for in the future, that's fine by me. First, consider the wine's color, a shade of magenta usually reserved for theater curtains. Savory aromas of bacon mingle with violets and fresh-cut hay as they waft from the glass, followed by scents of brambly red fruit, dark chocolate and orange peel. Once in the mouth, "Noir" hits you with laser-like acidity and tart red raspberries and dried cherries. The tannins are mild, but that tangy acidity will make your mouth water like you just popped a Jolly Rancher.
Stock and his wines are not shy. In fact, I liken him to a human hand-grenade lobbed into the Willamette Valley. He's pushing the boundaries of what defines Oregon wine, and his Minimus experiments are often as tasty as they are provocative.
If he ever needs a winery slogan, these words from Captain Ahab's creator, Herman Melville, will do just fine: "It is better to fail in originality than to succeed in imitation."