Age Appropriate
When "old vines" means what it implies
Along with many others, I suspect my initial encounter with a wine label proclaiming "old vines" had much to do with Zinfandel.
The uninhibited, massive, spicy Zins of yore frequently promoted themselves by relating a few details about vines planted on lands Rutherford B. Hayes, our 19th president, might have walked had not his abstemious wife, known as "Lemonade Lucy," been less autocratic. Guests at the White House noted at Hayes' receptions, "the water flowed like wine." And now even that water and the vines it nurtured have long since dried up. But some vines may remain, if not their descendants.
So what is the big deal about old vines?
Here is the general catechism: Old vines are tough; their longevity encourages a kind of immunity to disease and pests that, over time, seems to improve actuarial stats as well as flavor profiles. Natural disasters aside, human intrusion is still a factor and usually based on profit motives.
Old vines comprise a venerable commercial ecosystem. But when fashion dictates which is planted, the Zinfandels get ripped out for a cash-crop varietal. This befell the Zinfandel vines of Robert Mondavi, long since pared from the Oakville soil to make room for more Cabernet Sauvignon — the former vines, intact, were replanted over the hill at Ravenswood. Today, visitors to Napa Valley will be challenged to find Zin plantings, and as time passes, the replacement vines — Cabernet Sauvignon, Chardonnay or Merlot — assume the same nebulous consignments of expectation that old vines convey or imply. Marketing verbiage is the lingua franca of the fallen angels.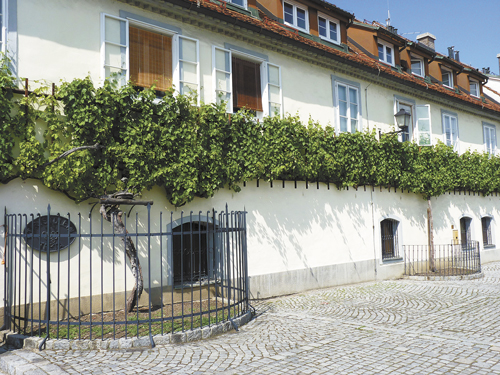 Conventional wisdom asserts, furthermore, that these vines produce smaller clusters, which means yield per acre shrinks and cost of production rises, ultimately passed along to the consumer. Twenty years ago, an old-vine Zinfandel probably would set back a retail buyer about $25. Now double this price and add $30 more.
The smaller clusters retain less water, so the artisan work begins, balancing the elements of a tough, old varietal boasting concentration of fruit, secondary aromatics, tannins and terroir. The fullness of time promises, as well, a fullness of wine in the glass. Often the results stagger the unprepared drinker who, accustomed to Zinfandel of the Pop Tart equivalency — abundant, immature and fueled with more alcohol than a Bunsen burner or campstove — experience complexity, and layers of fruit and spice in the glass. They still arrive at relatively high octane, but this level of alcohol is not a mask for defects and flaws but rather something of a rite of passage. The wine is big, demanding and mouth-filling, so we also expect it to wield a hammer like John Henry.
But "old" doesn't automatically mean "bold" or "gold." Sometimes, like the past 40 years, they simply poop out. New vines refresh the enterprise.
"Old" also doesn't just pertain to the warm-climate reds more common to Southern Oregon or California.
Syndicated wine columnist Dan Berger, discussing Oregon Rieslings he has long admired, bemoaned the circumstances around its supplantation by Pinot Noir in many Oregon yards. These venerable whites, too, disappeared under the scythe of profit-driven motives. The same logic, however, persists. Are wines made from fruit grown on old vines really better? I asked around.
In her April 26 online edition of Wine Folly, Madeline Puckett provides a great survey called "Five South American Varietals you should know about." The first one, Malbec, once tolerated like a scruffy pup, is now widely praised. Many of its better regarded examples boast old vines. This also holds for Malbecs over the ridge in Concepción, Chile. The vines seem to date to the turn of the 20th century. Interesting, though, and by no omission of knowledge, Puckett accepts the venerable vines at face value. They're "old" because, well, they're old.
In Slovenia and south on the invasion highway in northern Italy, old vines still grow, dating to the late 17th century; they're characterized by tiny production and also respected for their age — and a carefully scant measure of juice.
Old vines have no standard industry or legal definitions. They are old "de facto" instead of "de jure." We are left much like Alice in Wonderland, where words can mean whatever the speaker wishes. Like elderly people, older vines surely contain long memory of the terroir, but they, too, suffer infirmities of age beyond low output. Some conditions even further concentrate the fruit.
Harry Peterson-Nedry, founder of Chehalem in Newberg, has a positive view of old vines by acknowledging the nebulous definition of the term. It is relative, he says, what makes a vine old. His first planting in ground was in 1982, demonstrably a century after some Zinfandel vines went into California soil.
"We love to work with 30-year-old vines, progressively more than 20- or 10-year-old ones. They have a robustness that appears to absorb climate changes — wet or dry, warm or cold growing seasons." He adds that the vines, though old, have yet to experience a fall-off in output. "So, I wouldn't call them 'old vines,' but they are older."
Qualitatively, Peterson-Nedry notes, "There are subtler traits revealed in appearance and texture in our wines made from the older plants — Chardonnay, Pinot Noir and Riesling — but a palate must be long on experience to make the distinctions," which he says are desirable and pleasurable.
What emerges from a vineyard fortunate to include older vines are virtues of survival and a brand of wisdom that calls across the recovery of lost time, but mercifully without Proust's teacup obsessions. Call it resonance. For Chehalem's chief bottle washer and wine master, the old vines exhibit consistent character and quality each season. "They are the winemakers' grapes," Peterson-Nedry says, a starting place on which reputations build.
Still, we wonder whether "old vine" connotes quality that is so personal that it may not offer anything at all — think Ricardo Montalban car commercials with Latino-accented "rich Corinthian leather."
Dan Painter, sales manager for Walla Walla-based Zerba Wines, asserts otherwise.
"There are no old vines in the Northwest." He doesn't demur from Nedry's preference for more mature vines, but adds, "How can we really tell if the older vines make a difference, except for what we claim on the label?"
Lonnie Wright of The Pines in the Columbia Gorge resurrected some nubs of old-vine Zinfandel to good effect. But the question remains: How old is "old?"
Looking at the first Pinot Noir plantings in the Willamette Valley in 1965 and 1966, pioneers like David Lett and Charles Coury, if still around, could claim they had some old vines producing quality fruit.
Fifty years later, Jason Lett, legatee to his parents' pioneering at The Eyrie Vineyards, still crafts Pinot Gris and Pinot Noir from the "original" vines. Anyone who remembers "Ray's Famous Pizza" in Manhattan knows the company morphed into "Original Famous Ray's" to keep the illusion intact. Lett has wisely sidestepped the matter of "old" by changing the modifier — I love marketing.
Yet, the issue remains: What constitutes "old" and whether the wine produced excels that of young, insouciant vines?
Painter agrees with Peterson-Nedry that vines older than 12 years are predictably productive and more easily managed. Trudy Kramer of the eponymous winery and vineyard, planted first in 1984, concurs. She cites Kramer's Heritage Block of Pinot Noir. Not ancient, but old enough to produce predictable quality fruit. "It would be nice to have some common knowledge by varietal as to what constitutes 'old.'"
Painter says plastering "old vine" on a wine label or some suggestion of maturity is a matter of keystrokes. "I think the Oregon wine industry needs to set a benchmark for age that presupposes a mutual understanding of what 'old vines' mean to the trade and to the consumer." Both Kramer and Peterson-Nedry concur.
Old-vine varietals suggest that even in a youth culture, age matters, like the time long ago when the Rolling Stones started their farewell concerts.
Something of the old vine remains elusive, as Peterson-Nedry points out. That observation reassures — such enigmas, so subjective, keep wine writers in business.