A Toast to Papester
Celebrating the life of an Oregon wine original
Mention Mark Pape to anyone who knew him, and they will describe his charming Texas accent, larger-than-life attitude, humility and beloved quirkiness; they might even call him "Papester," a fun-loving nickname for an endearing guy.
He was greatly admired and adored by colleagues around the world and many more closer to home, including Witness Tree winemaker Steven Westby, who said of his dear friend, "Make no mistake, if you ever met Mark, you were never going to forget him."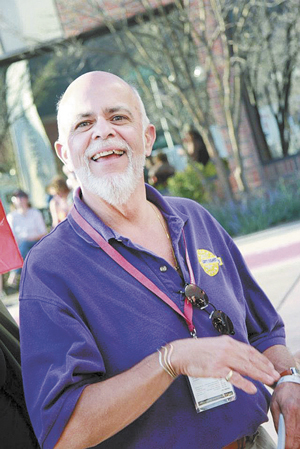 Extremely ill for several months with a hard-to-diagnose intestinal disease, Mark died April 13, with his best friend, Blair Hamilton, by his side. He was 64 years old.
Mark and Blair met at a warehouse job during the summer of 1972, right after the latter graduated from the same public high school, R. L. Turner High, in Carrollton, a suburb north of Dallas. Although Mark was only a grade ahead, Blair was not convinced he'd ever seen Mark before.
"He recognized me right off the bat and suggested that I should recognize him, too," Blair said. "I told him that I had never seen him before in my life. Mark said, 'Well, you remember the guy who used to stand across the hallway from you outside of home room class? That was me.'"
Mark resembled nothing of his former self, "the fattest kid in our school of about 2,500 kids," Blair recalled. He had lost an incredible amount of weight, transforming himself in only a year.
Having transferred to public school from Cistercian Preparatory School in Irving, Texas, a private Catholic prep high school, Mark brought the dress code with him, making him even more of a black sheep.
"He always wore a jacket and tie to school," Blair explained, "while everybody else wore jeans and T-shirts."
That summer, Mark and Blair became instant best friends, although the two couldn't have been more different.
"I am a big conservative; he was a liberal," Blair said. "I'm a pretty 'steady eddy' kind of guy; he was bouncing all over the walls. He never married; I'll be honest, I've been married three times."
Mark studied at the University of Texas — Blair attended Texas A&M — where he changed his major many times; he graduated in 1980 with a Bachelor of Arts in English. While earning his degree, he began what would become a storied restaurant career, first in Austin, and following graduation, in Galveston, waiting tables at Gaido's Seafood Restaurant.
In 1985, Mark helped Mardi Schma open City Café in Dallas. As general manager for four years, he was integral in launching what continues to be a highly regarded restaurant in the city. From Dallas, he moved to Atlanta to aid in opening yet another restaurant, Lombardi's Underground, in 1989. Not even a year later, Mark headed west to Aspen — Blair helped him move, driving the U-Haul 1,500 miles to Colorado.
In the upscale ski resort town, Mark was hired as the maître d'/sommelier for The Caribou Club. Subsequently, he worked as the wine director for The Little Nell Hotel and Aspen Skiing Company, the hotel's parent company. Mark was there at the beginning of its rise to prominence and international fame.
"At one point, he had over 650 wines on his wine list and could tell you about every single one of them," Blair said.
Finally, the pull even farther west happened serendipitously when Mark joined Blair on a trip to Portland, where Blair was born and his father was also born and had returned to live in 1993. On a drive to the coast, they happened through the town of McMinnville, where a historic house on the town's main street caught his eye.
"Driving back from the coast, he asked me to stop again, so he could look at [the building]. He said it would make a great restaurant. Again, it was just another one of Mark's harebrained ideas — I've heard hundreds of them. I didn't think anything of it," Blair laughed.
No joke, Mark bought it. In the summer of 1996, he opened Third Street Grill & Wine Shop. Despite living in the apartment above, he spent most of his time below.
"For years on end, he never had any time off," Blair commented.
After running Third Street Grill seven days a week for more than three years, Mark desired change. He headed south to California for a new opportunity as sales and marketing coordinator for Murphy-Goode Winery — purchased by Jackson Family Wines in 2007. Three years later, he changed course again and returned to Oregon, where he settled back into McMinnville and went to work for a winery farther south, outside Salem.
"Mark was an absolute expert going into — for lack of a better term — distressed wineries that were making good wine but struggled with getting it off the shelf," Blair explained. "That was the case with Witness Tree."
Blair maintains the switch from Murphy-Goode with its massive production and endless wine to a small Oregon vineyard offered Mark a much-needed challenge.
"He had to figure out how to make [Witness Tree's] wine last the full year so customers wouldn't run out of it," he explained.
Using his connections from Murphy-Goode, Mark helped turn around Witness Tree, selling their storied brand into national accounts. Six years later, he replicated his success at Left Coast Cellars in nearby Rickreall. He used his marketing and sales expertise to move high-quality wine sitting in a warehouse to wine shops and restaurants around the country.
After Left Coast, Blair says Mark was looking for another venture, a "last hurrah." He was working with Christine Andrus to revitalize her brand, Gypsy Dancer, when he became ill.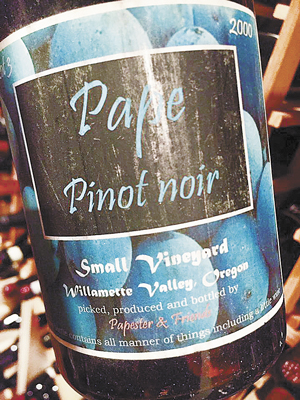 No doubt, Mark was a hard worker, but he found plenty of time to play. Anyone who knew him says he was a lot of fun to be around. For his best friend, there are so many joyful memories, so many "Pape-isms," aka stories, that he was challenged to narrow them down.
"Although, there was this one time in France…," Blair recalled. "Mark and I drove into the town of Chablis on a Sunday afternoon — it was rolled up tighter than a drum. The town sits in a valley and all you can see is grapes for as far as you can see."
Instead of spending time in the picturesque town, Mark wanted to go up in the vineyards. He pointed to a spot far up on a nearby hill.
"I was like, 'What are you talking about?'
"Mark said, 'See that little place? I want to go there.'
"I could kind of see it. We didn't know how we were going to get up there."
On tiny, one-lane dirt roads, Blair drove and Mark asked for directions … in Spanish.
"Somehow, he was able to communicate to the French by speaking Spanish," Blair laughed. "It is something I've never quite figured out."
Once they reached the spot, they took pictures and looked around in the vineyard. After both returned home to the U.S., Mark discovered he had found a gem.
"[Mark] had picked out the 90-acre plot of the best Chablis in the world," he explained. "Somehow, he nailed it."
His knowledge and intuition when it came to wine spilled over to his other friends, too. Blair says numerous people, including himself, had called Mark many times over the years while shopping for wine.
"He would only say 'yes' after you told him the price. If he thought you were getting taken, he'd tell you not to buy it."
Molly McWhorter, currently WillaKenzie Estate's cellar club manager, has many fond memories of Mark from over the years. She met him at a restaurant in Washington, D.C., where she was employed and where Mark would sell Witness Tree wine. She considered him a mentor "in all things Oregon" and the reason she moved to the Willamette Valley.
One of her greatest memories of Mark happened after he had cooked dinner for her one evening — he was a huge foodie. She was there to ask for advice on her future in the Oregon wine industry.
"After he had enough of being the 'mentor,' he told me to get up and that we were going for a ride," Molly recalled. "It was a clear March night, and it was still cold. He warmed up his 1980 Fiat convertible, put the top down, grabbed some blankets, and we put on, at least, three fleece jackets each. Off we went.
"Speeding down Hill Road, around curves and then onto Donnelly Lane, that little car back-fired every half mile or so. We were laughing so hard, I'm surprised he didn't run off the road. We rode around for a few hours, and when the drive was over, we were frozen despite our winter wear, but, as always with Pape, life was a helluva lot brighter and my worries had long since faded into the black sky. That ride, Mark's laugh and his big, old, goofy Texas smile hold a very special place in my heart."
Mark was also the impetus for Raptor Ridge's Kevin Wiles' migration to Oregon wine country. The two met at a retail wine shop on Hilton Head Island, South Carolina, where Kevin was working in 2002 and Mark was selling Witness Tree. Mark offered him an invite to Oregon Pinot Camp in 2005; Kevin moved west a year later.
"When I moved to Oregon, he opened his home to me for eight months until I got through my first harvest and learned the lay of the land to find a place to live," Kevin explained. "His generosity and friendship over the last 15 years were irreplaceable. He opened up a new life for me that I will forever be grateful to him for."
For Steven Westby, Mark was "an incredible friend and co-worker. He could always be counted on with his infectious laugh and 'why not?' attitude," he continued. "I think he was a tremendous ambassador for our industry."
Shirley Brooks, Elk Cove Vineyards' VP of sales and marketing, met Mark in the early 2000s, selling wine throughout the country.
"A small group of us banded together to create what we called Oregon Collaborative Group," Shirley explained. "Basically, a bunch of us road warriors trying to sell Oregon Pinot Noir in a world that barely knew where Oregon was."
Within this circle of friends, Shirley really came to know Mark and his "ever-infectious laugh and humor," and admired his reach into the national market.
"Having a long career in the fine dining industry, he supported many Oregon brands in their infancy," Shirley said. "People like him are why we have grown to 600-plus brands and still evolving. Thank you, Mark."
Christine Andrus first met Mark in Colorado in the late '90s on a sales trip — her employer, Grand Vin, distributed Witness Tree. Her late husband, Gary Andrus, had known him for years through The Little Nell as well as Murphy-Goode. Before Mark died, he was working with Christine to become a partner in Gypsy Dancer Wines, which had lapsed after Gary's death.
Mark's friendship and encouragement is a major reason why she revived the brand, which now has a tasting room in Carlton.
"He had a way of encouraging you by simply believing in you and your abilities," she commented. "He was relentlessly supportive. I have met so many people who have told me that they wouldn't be where they are today without Mark, myself included."
After attending classes at Chemeketa Community College, Mark learned how to make wine, and did so in his garage in 2000. Blair opened a bottle right after his death, but before he died, he gave his friend some reassurance.
"I told Mark that if it was bad, we would pour it down the drain, because that is what he would have done," Blair explained. "But it was actually pretty drinkable; some of his other wine friends were also surprised. Being 17 years old, it was actually pretty good."
At the very end, it was Mark's best friend, Blair, holding has hand while he took his final breath.
"To be honest with you, it was the highest honor of my life to be that person he wanted there; it was also the hardest thing I've ever done."
The following Saturday, Blair and a number of close friends gathered at Mark's house in McMinnville.
"There was a lot of crying going on, but I have not laughed that hard in years," Blair said. "Everybody who knows Mark has a Pape-ism, a story. There are thousands out there; I have a thousand of them."
At his celebration of life, June 10, at Left Coast Cellars, Mark's ashes will be divided among close friends. His original request had been to have them scattered in a vineyard, but plans changed slightly as many suggested several vineyards for his ultimate resting place.
"He wanted to have his ashes spread in a vineyard, so that he would become the grapes to become the wine to be enjoyed by people."
Fitting for someone who brought so much joy to everyone he knew, everyone he met.