A Thirsty Thirty
IPNC quenches Pinot passion for three decades
"Cheers to 30 years" was the official toast as 850 glasses — filled with Henri Giraud Champagne — clinked in honor of the International Pinot Noir Celebration's milestone anniversary. Accentuating the festive atmosphere during the Friday night Grand Dinner were custom-made cupcakes, matches, candles and party hats marking three decades of this totally Oregon wine weekend, held July 29–31.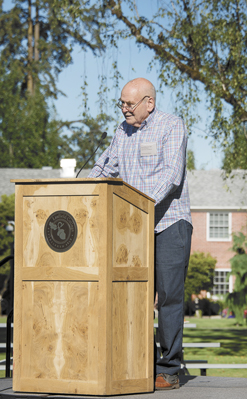 Since 1987, fans of what has become Oregon's most celebrated varietal have gathered on the grounds of McMinnville's Linfield College to revel in all things Pinot. While the state's wine industry has matured over the years, so have the organizers in perfecting IPNC by orchestrating flawless culinary encounters, seminars, vineyard tours, al fresco tastings and more.
This year's wines were poured by esteemed Pinot producers representing Australia, Canada, France, Germany, New Zealand and the U.S.—including lesser-known Pinot-friendly regions in Michigan and Virginia.
James Halliday, AM (member of the Order of Australia), an Australian wine writer, critic and winemaker, not only acted as master of ceremonies but also represented Coldstream Hills — founded by Halliday in 1985. He co-hosted the Australian Pinot Noir master class, a huge success.
According to Amy Wesselman, executive director of IPNC, "The Australian seminar was the sleeper seminar of the weekend. Many a skeptic walked in, and many a convert walked out!"
Halliday, along with Michael Hill Smith, AM, MS (Master of Wine), of Tolpuddle Vineyard and Tom Carson of Yabby Lake Vineyard, led two classes showcasing 14 of Australia's best Pinot Noirs. Each 90-minute class covered details on the participating wineries and wines, the history of Pinot in Australia, viticulture and winemaking developments, climate, soil and the finer points of their most important Pinot regions.
As Smith's first IPNC, he found it "an amazing event on many levels; the enthusiasm of the attendees, the range of winemakers, the quality of the catering and the overall professionalism of the events."
What makes IPNC a sell-out event that many people plan for a year in advance — even at the $1,195 ticket price — is the truly all-encompassing experience that attendees receive; no detail is left to chance. Two outdoor Grand Tastings, a myriad of weekend seminars, a vineyard tour and hosted winery lunch, the Grand Dinner, breakfast on the patio each morning and the Sunday Sparkling Brunch Finale are major highlights accented by smaller tastings and other wine-related activities.
Saturday's University of Pinot courses for 2016 included: "Evolution of House Style," during which three winemakers discussed finding and cultivating one's own winemaking style; "Aging Gracefully," which delved into the components making a wine age-worthy and why that is an attractive quality in Pinot Noir; as well as lighter topics such as "Mindful Appreciation of Pinot Noir" led by Norwegian sensory expert Håkon Skurtveit and "Pinot Noir & Charcuterie," an amusing and delicious wine- and food-pairing class.
The quintessentially Northwest Saturday night Salmon Bake held in Linfield's Oak Grove has been a premier IPNC feast since its inception. Jason Stoller Smith of Timberline Lodge returned once again to take his place as Grand Poobah of the fire pit. Rounding out the team deftly preparing the multi-course extravaganza and highlighting the state's farm-to-fork culture were Amber Olson and Jacqueline Schultz of Elephant's Delicatessen; Ben Dyer, Jason Owens and David Kreifels of Laurelhurst Market; Phil Oswalt of Multnomah Athletic Club; and Matt Christianson of Urban Farmer.
Of course, no sold-out IPNC Salmon Bake is ever complete without the dessert buffet made possible this year by Blue Raeven Pie, Carlton Bakery, Eat: An Oyster Bar, Edmonds Community College and Lisa Horness. In total, throughout all seven of the lavish IPNC meals, guests were introduced to 60 Northwest chefs.
Many believe Oregon wine country was made famous by Pinot Noir, but actually it was the spirit of collaboration that is the secret behind this premier wine region's success and nowhere is that quality more evident than IPNC. Although a large number of ticketholders are veterans of the event, new visitors attend every year and are actually paired with one of the year's featured wineries; prior to the event, first-timers are contacted by members of the winery to introduce themselves, invite them to their table for lunch on the lawn and make themselves available to help the "rookie" become next year's IPNC expert.
Not everyone can afford the entire weekend's ticket price or time investment, so IPNC also offers a condensed version: Sunday's Passport to Pinot. Held in the Oak Grove — just as Saturday's Salmon Bake — with its signature strings of lights and hay bales, this year's weather was a bit more forgiving than the record-setting temperatures of 2015. Just in case, organizers had a supply of parasols placed on tables in the Grove. The four-hour timeframe was adequate to taste through the same 74 wines that the full-weekend guests enjoyed as well as experience food samplings from 15 different Portland-area eateries. One brewery, soda company, coffee roaster and tea shop rounded out the artisan beverages represented.
In the end, the 30th anniversary of IPNC was as much a beginning as a landmark occasion. Recently, Dave Paige, winemaker at Adelsheim, said that after 15 years crafting Willamette Valley Pinot Noir, he still steps into the winery excited to see what the grapes will teach him.
That vibrancy is the essence of the International Pinot Noir Celebration.
Viki Eierdam is the wine columnist for The Columbian and a freelance writer. She lives in Battle Ground, Washington.