A Tasteful Bunker
Portland wine scene goes underground
There are far worse places one could be when the Big One hits. Les Caves, a new tasting room and eatery set in an age-old subterranean lounge, appears as seismically sound as a structure can get. The thick, solid concrete walls are well used to hoisting what's been several commercial and structural incarnations above.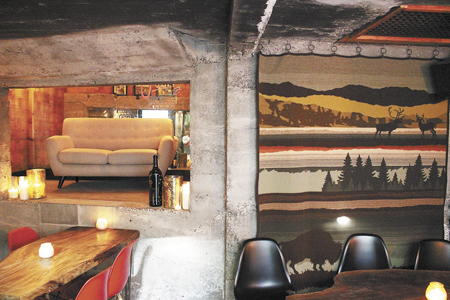 Presently, it is the home of some unusually old bottle offerings, an expansive collection of sherry and vermouth and a concise list of conservas dishes reminiscent of an after-hours Spanish tavern. It's a burrow, hideaway and bar all in one; a place to blissfully eliminate above-ground noise in small-batch wines made using ancient techniques.
John House and Jeff Vejr opened Les Caves in June. The former is the winemaker/owner of Ovum, whose noble white offerings feature prominently at the bar; the latter is the winemaker/owner of Golden Cluster, a label touting fruit from Charles Coury's pioneering Willamette Valley vineyard. The concept, as they describe it, is a hospitality-driven bar that feels like some distant home.
"From the moment you walk in, you're no longer in Portland, you're in a bar in Barcelona, Paris, Tbilisi, Tokyo, Copenhagen, Berlin or London," Vejr says.
Already, customers commonly remark on the European feel of the place. The Rose City doesn't have many underground bars, let alone one that offers reasonably priced 1976 Sebastiani Proprietor's Reserve Zinfandel ($70 per bottle) in an old cellar-like setting. Indeed, anybody who's done some traveling abroad will feel a warm jolt of familiarity here.
The wine list at Les Caves changes constantly, but still manageable in size. It spotlights rare finds and lesser-praised varietals in an inviting fashion, encouraging deviation from the norm.
"It may be as simple as a Mexican lager, or complex as a glass of South African vermouth," House explains. "It's about supporting those producers who are working their [butts] off to bottle something they feel the need to share."
Additionally, Les Caves offers a healthy cast of grower Champagnes, as well as beer. Collaborations with local brewers are in the works, including a forthcoming wine and beer made from Gewürztraminer with area farmhouse buffs Upright Brewing. The food reflects the bunker-like nature of Les Caves, too, mostly tinned items like mussels in paprika sauce from Spain's Ramón Peña — sophisticated rations.
Pre-made dishes like this, Vejr reminds, are both convenient for an operation where he and House are the only employees and a nod to what you'd find in the Old World. Local staples like baguettes from Little T Bakery and cured meats from Olympia Provisions round out the menu. Given Vejr's background as beverage manager at Holdfast Dining — easily one of the city's most celebrated pop-up restaurants — it's safe to assume the dishes will continue to change with complementary wines at the ready.
Most impressive, though, are the dustier options. The owners have spent years scouring cellars and accruing their own personal collections. Les Caves extends an opportunity to share some of their finds. And while your typical restaurant might sneak one or two of these bottles onto their list and ask for arms and legs, the ethos here is more about accessibility. Château d'Arche 1986 Sauternes and Congress Springs 1988 San Ysidro Vineyard Pinot Noir, for example, sell for $15 a glass.
"Sadly, life moves too fast these days, [making] it hard to give way to the patience some bottles require to become what they were meant to be," says House.
The older offerings provide glimpses into winemaking from decades past, something both House and Vejr learned to respect via old California reds early in their wine careers.
"Besides, who doesn't get a kick out of drinking something from your birth year or something older than you?" Vejr adds.
Les Caves also provides a stage for the owners' own work. Vejr's Golden Cluster wines include micro lots of Sémillon, Savagnin Rose and Gewürztraminer. He has rare access to Coury's half-century-plus year old vineyard in the foothills northwest of Forest Grove. House's Ovum wines revolve primarily around Riesling, from a handful of vineyards, ranging from the Illinois Valley in Southern Oregon to Ribbon Ridge in the Chehalem Mountains. House believes Riesling embodies the most complex wine, though you sometimes have to put in a little extra work to truly enjoy it.
The fact that consumers generally associate Riesling with sweetness, sherry with your grandmother and vermouth with your grandfather, Vejr argues, is the result of bastardized and highly popularized takes on these nuanced drinks.
"To share the history of these wines and pour people a taste of 'real' sherry or vermouth is very satisfying," says Vejr. "It opens up a whole new world for people, and it is a completely different way to enjoy wine."
Many of the owners' favorite area labels show up on the list as well, from the highly experimental works of Minimus Wines to the Chardonnays from Walter Scott Wines. In addition, there's a revolving cast of Italian, French, Austrian, Spanish and Georgian wines, alongside the occasional barrel sample on draft. In many ways, frequenting Les Caves is like a trip to your favorite bottle shop, minus the sometimes daunting task of selecting something that is at once unusual and drinking well at the moment.
Part of the satisfaction of Les Caves is, well, the cave itself. Lodged in the heart of the Alberta Arts District in Northeast Portland — essentially the seismograph for the city's hyperactive growth tremors and shaking reforms — the bar exudes an atmosphere that predates just about all of the change. This isn't to say you won't find something new and unique in this just-opened establishment, you'll just do so amid the overarching context that wine is a tremendously old art form we are wise to learn from but need not be intimidated by.
Mark Stock is a freelance writer based in Portland. Read more of his work at www.markastock.com.