A River Runs Through It
Vineyards work with agencies to protect vulnerable watersheds
Oregon's grapegrowers are passionate about the land and the environmental imperatives to make the world a cleaner and healthier place to live. Vineyards around the state are increasingly conscious of the need to protect and restore habitat, especially those near active waterways.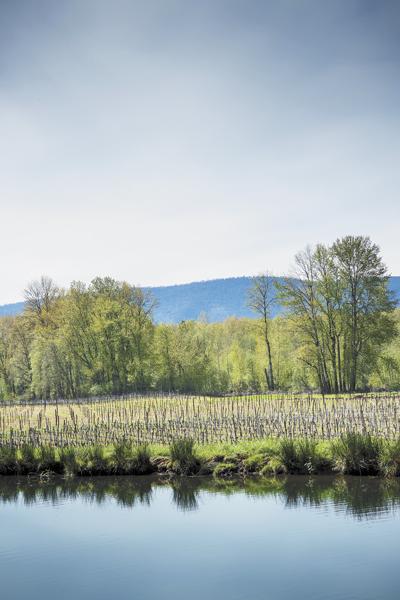 Unique partnerships have emerged between vineyards and watershed protection agencies capitalizing on shared values for a common good.
Salmon-Safe
For Pat Dudley and her family at Bethel Heights Vineyard in the Eola-Amity Hills, Salmon-Safe certification was obvious; they'd always felt concern for the environment and a desire to preserve healthy landscapes.
Founded by river protection organization Pacific Rivers in 1996, Salmon-Safe was one of the first U.S. eco-labels working to promote environmentally sustainable agriculture. Its mission continues to keep watersheds clean enough for native salmon to spawn and thrive.
Dudley became even more of an advocate of watershed protection while she served on the Oregon State Board of Agriculture. During her tenure, 2000–2008, the Oregon Plan for Salmon and Watersheds was in process of implementation.
"Ecosystems don't stop at a fence line," Dudley added, reflecting her commitment to the broader environmental protection framework.
In 1999, Salmon-Safe certification integrated into LIVE, which supports environmentally and socially responsible winegrowing through third-party certification and education. All LIVE-certified vineyards are also Salmon-Safe. Today, there are 285 LIVE-certified wineries and vineyards in Oregon. Outside the wine industry, Salmon-Safe certifies other agricultural sectors, providing accreditation and design standards for urban development, corporate and university campuses, and recreational areas.
Yet, LIVE represents only one of several paths to Salmon-Safe certification for Oregon winegrowers, offering an "organic and beyond" Salmon-Safe overlay certification through Oregon Tilth for USDA organic vineyard operations. In addition, last year, Demeter completed a criterion harmonization process to integrate Salmon-Safe standards into the U.S. Biodynamic benchmarks.
While, initially, the required paperwork appears daunting, the standards teach sustainable agricultural practices and the documentation verifies practice.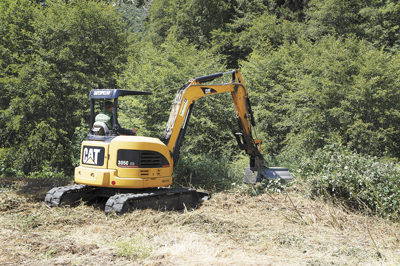 "Certification programs of all sorts are very helpful," Dudley noted, "because they tell you this is harming that or this affects that, and you get some practical assistance in figuring out what you need to do as a landowner."
The Freshwater Trust
When rivers and creeks warm, the devastating effect means warmer water contains less oxygen, reducing the vitality of fish and causing fish eggs to hatch prematurely, thus lowering their chances of survival. In Southern Oregon, two vineyards with acreage along the Applegate River, Pearl Family Vineyard in Wilderville and Red Lily Vineyards in Applegate, stepped up to cool the water in an innovative restoration partnership with the city of Medford and The Freshwater Trust.
In 2011, state regulators required Medford to address a high thermal load in treated wastewater released into the Rogue River. Instead of building cooling towers or tanks, Medford partnered with The Freshwater Trust and Inland Rogue property owners, including a number along the Applegate River, to plant trees and other native species along streambanks, increasing overhead cover and thereby reducing aquatic solar loading over time. Plantings also supplant invasive blackberries and serve as natural filters, preventing erosion and agricultural runoff.
This partnership with landowners marked one of the first projects of its kind approved by Clean Water Act regulators to quantify freshwater conservation activities and trade benefits in a cooperative approach to watershed management.
Pearl Family Vineyard's riverbanks used to bristle with blackberries but now flourish with five-foot Ponderosa pines, Oregon grape, cedars, oaks and other native flora — all healthy and growing rapidly.
Owner Andy Pearl welcomes the The Freshwater Trust's 20-year lease arrangement, which gives the organization access to a buffer zone along the Applegate where crews can perform their work in a way that complements vineyard operation. The length of the lease allows the vegetation to really take root and ensure it matures to where shade benefits are realized.
Vineyard owners are actually ideal candidates to participate in Southern Oregon's watershed protection projects.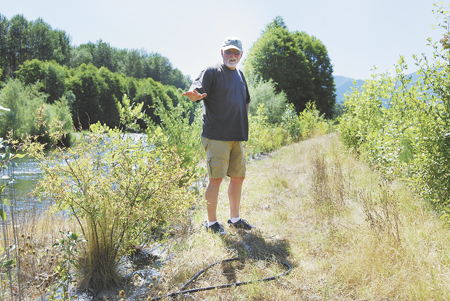 "Viticulturalists are the type of landowners that tend to be a little more experienced, to align their land with business interests and favor long-term environmental investments," said Denis Reich, The Trust's Southern Oregon program director.
In other words, grapegrowers are long-sighted.
Red Lily Vineyards became an early program participant, with riverbank work starting in 2013. Winemaker and co-owner Rachel Martin remembers when the tiny seedlings along the Applegate River.
"Those plants and trees have started to mature, and they have an enormous impact along the waterway," she said.
Martin feels lucky to be a part of the project. "[The Freshwater Trust] is a great steward of the land, and it's been a really great partnership."
Watershed Council
More than 1,000 feet of Bridgeview's Illinois Valley vineyards front Sucker Creek, and over the course of the last five years, the waterway has changed course. What was a problem of gradual erosion for Bridgeview turned into disaster last winter as more than an acre of mature vines, irrigation and electric washed out along with the banks. At one point, part of the creek was flowing through a large section of the vineyard, before it found a natural low point to drain back into the creek.
"At first, I couldn't sleep," said René Eichmann, Bridgeview winemaker and co-owner. "I'd get the heebie-jeebies every time I'd come out to the creek."
No wonder Eichmann felt alarm because with the winter snowmelt and unusually high precipitation in the Illinois Valley, Sucker Creek hijacked tons of good soil from the vineyard, an agricultural loss of about $100,000.
Bridgeview too a genuine beating from Mother Nature, but so did the salmon. The growing power and velocity of the creek made Coho habitat sparse at best.
"While this [location] is where the problem is showing up and the symptom is exhibiting, it's actually indicative of a problem farther upstream," said Kevin O'Brien of the Illinois Valley Watershed Council.
Watershed restoration is a huge project and expensive. Federal funds have largely dried up, so the Illinois Valley Watershed Council and other similar groups currently depend on grants and private funds. But these avenues of money take time, as do county and state permits. Luckily, O'Brien was able to facilitate Bridgeview's requests thanks to the Emergency Watershed Protection Program under the U.S. Department of Agriculture's (USDA) Natural Resources Conservation Service (NRCS).
The winery currently has plans — under the program — to repair and rebuild 500 feet of bank using all natural materials in order to diffuse the energy of the water and, in the process, establish Coho habitat.
"It is quite the project at an estimated cost of near $250,000," Eichmann said.
When Eichmann reached out for assistance from O'Brien in December 2015, O'Brien was ready to act quickly; he also mentioned an old idea he'd pitched to founder Bob Kerivan years ago: supporting salmon habitats and watershed restoration with bottle sales donations — at the time, no one moved on his proposal. Now, Eichmann was ready to take action.
He met with lawyers and strategized with Portland brand development team Counterform to create a label that would garner bottle sales donations for watershed restoration in the Illinois Valley — in the future, perhaps other locations where Bridgeview wine sales are significant will be recipients, too.
"Bridgeview's dedication is to donate funds, actually cash, toward watershed restoration," he explained. "It could be seed money, matching funds for grants the [Watershed] Council is looking at. If we can prove that our little community is actually doing something, then maybe they'll say, yeah, this is a worthy cause, we'll consider it a great project and make funding available for it."
Enter the Salmon Redd Project featuring two new brands: Alevin and Home Ground. Alevin, a newly hatched salmon with the yolk still attached, will be sold in the wholesale market; Home Ground, an area of clean gravel where female salmon spawn, will be available in the tasting room, showcasing premium vintage and small-production lots. Alevin's first two wines, a Cabernet Sauvignon-Merlot blend and a rosé, were recently bottled; Pinot Noir and Pinot Gris are scheduled next. Home Ground is still in the works, but will feature the same varietals as Alevin, plus an un-oaked Chardonnay.
Eichmann also strategized to overhaul Bridgeview's agricultural practices; the winery signed up for LIVE and Salmon-Safe certification, too.
"We live in this valley, and it's a beautiful place to live," he said. "It's a new direction for our company, preserving the environment, doing everything sustainably."
Permits are not yet in hand but should be issued soon.
"In the State of Oregon, any work that's to be done has to be cleared by the Clean Water Act," said O'Brien. "Right now, the plan is to hold what's there with a bunch of boulders."
O'Brien will also try to disperse some of the stream's energy with riffraff, develop new channels to bleed off some of the energy, and rebuild the bank with tree stumps. All this work will help preserve and extend the natural habitat of Coho by slowing the stream, creating side channels offering predator protection, slower water, cooler temperatures, and rocks and roots to spawn, grow and rest during migration.
Meanwhile, Eichmann heads down to Sucker Creek every morning to check the vines and flow of water. Like the creek, the path ahead may not be straight and may change with time, but Eichmann and the team at Bridgeview will stay the course.
Logical Place to Start
Grapegrowers realize stewardship of the environment is vital; healthy soils and clean water are essential for the premium grapes they grow and fine wines they make, not to mention the world around them.
"A stream going through (a vineyard) is a natural way of distributing the ills that you might put into your vineyard into
your waterway for other people to be hurt by," longtime grower and founder of Chehalem Wines Harry Peterson-Nedry noted. "We want to make certain that we were doing things as correctly as possible."
He wholeheartedly embraces the notion of sustainability and environmental protection, as does his daughter, winemaker Wynne Peterson-Nedry, who serves as the current president of LIVE.
"It's important to maintain the planet on which we find ourselves. We have to work at the lowest level we can," Harry offered. "And the logical place for us to start is the vineyard."
Maureen Flanagan Battistella has been documenting the wine industry of Southern Oregon for the last 15 years. She is on the faculty of Southern Oregon University.