A "Nasty" Proposition
Post-election brand to bring more women to table
Eleanor Roosevelt's quest for human rights. Aretha Franklin's voice demanding R-E-S-P-E-C-T. Marie Curie's breakthroughs in science. Hillary Clinton's historic run for president. These successful, intelligent and "nasty" women are inspiring a group of wine industry members to bring more of them to the table … as leaders.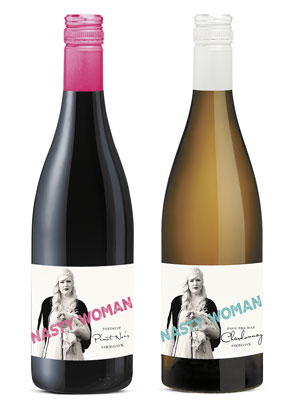 Founded on Election Day 2016 by Meg Murray, Nasty Woman Wines offers high quality with an unapologetic message of celebrating women and energizing a movement to aid them in achieving leadership positions in government and beyond.
Like many around the world, she was stunned by the ultimate outcome of the election, but the biggest surprise was from Murray's five-year-old daughter in the form of a question: "How old do I have to be when I run for president?"
In that moment, Murray's disappointment became resolve. She decided it was "time to get nasty," as did many of her friends and colleagues, whom, after Murray posted her idea on Facebook, embraced the idea, even offering to help any way they could — including Andrea LaRue of Nectar Graphics who designed the brand identity.
Within her own Willamette Valley wine community, Nasty Woman Wines was already going viral.
"It struck a nerve," she explained. "We live in a country where women comprise 51 percent of the population but only hold 20 percent of seats in the Senate, and even less than that in corporate leadership positions throughout the world. People are ready to fight for this cause — both men and women."
Those supporting Murray's mission can participate in an upcoming Indiegogo crowdfunding campaign ready in the next couple months. In the meantime, those interested can buy the wines, which include aptly named Pantsuit Pinot Noir and Pave the Way Chardonnay. Future releases will feature Progress Pink Rosé, Represent Red and Boss Lady Bubbles — Murray is currently seeking distribution around the U.S. and internationally.
How will this wine achieve its mission? The brand will donate 20 percent of net profits to appropriate organizations, including The Women in Public Service Project, a nonpartisan program of the Global Women's Leadership Initiative at the Wilson Center (Woodrow Wilson International Center for Scholars) located in Washington, D.C. The group is dedicated to "accelerating global progress toward women's equal participation in policy and political leadership."
"They're doing amazing things in their pursuit to reach 50 percent female representation in all elected and appointed policy and leadership positions by 2050," Murray explained. "We'd like to help accelerate that."
As for what defines a "nasty woman," Murray references a description given by Dr. Caroline Heldman, associate professor of politics at Occidental College in L.A., who specializes in the American presidency and systems of power:
"A 'nasty woman' is a woman who refuses to be silent in the face of injustice. She speaks out against racism, sexism, homophobia, transphobia and the mistreatment of people with disabilities. She demands an equal seat in the halls of political and corporate power, and she will not be dismissed, shushed or 'mansplained.' She knows the value of her voice and actions, and she demands justice in a profoundly unjust world. The 'nasty woman' is loud and proud."
For more about Nasty Woman Wines, visit www.nastywomanwines.com and look for updates about new releases, wine club offerings and fundraising campaigns on Facebook, Instagram and Twitter.