A Historic Win
Geiser Grand earns A-List Regional Spotlight
Barbara Sidway never expected to win a 2017 Oregon Wine A-List award for her Palm Court restaurant inside the historic Geiser Grand Hotel in Baker City. She also didn't plan on becoming a hotel owner in Eastern Oregon in 1993, but that's what happens when you have a passion for restoration.
In 1979, Sidway started her own business in Florida, specializing in historic preservation — some of her early work included renovation of the Freedom Tower in Miami, where Cuban refugees, fleeing the Communist revolution led by Fidel Castro, were processed.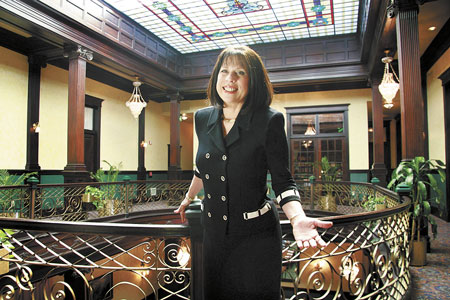 In the late '80s, she moved to McMinnville, where she and her husband, Dwight Sidway, helped preserve buildings in the city's downtown. In fact, in 1990, the couple purchased and renovated the 1909 Oddfellows Building in which Third Street Flats is currently located under new owners.
Then, in 1993, the Sidways learned the Geiser Grand Hotel in Baker City was set for demolition. Built in 1889, the boomtown hotel needed rescuing and quickly. The local community rose up to ask that they save it. Applying her expertise in the field, she arrived in Eastern Oregon with a solution.
"In order to save it, I had to buy it," she explained.
With an investment of $7 million and five years of hard work — using 80 percent local labor — Geiser Grand was restored to its former glory — including 23 crystal chandeliers imported from a palace in Venice. For the hotel's impeccable restoration, the Sidways received numerous awards, including the Governor's Livability Award and the National Trust for Historic Preservation Honor Award.
Barbara has invested more than just time — nearly 25 years — and money into Baker City; she remains one of its greatest promoters.
"Baker City has the largest intact original streetscape in the American West," Barbara said, adding the remarkable fact that 103 of the hotel's original windows are intact.
It was with that sense of place she found herself challenged to find time to talk with OWP regarding her award. On Feb. 5, a heavy snow load caused the collapse of part of the roof of the historic building that shares a wall with her hotel, so her time and attention was consumed by the event, and she found herself working not only to help local efforts in saving the building, but also to keep the hotel running, as well.
"When a building like that is damaged to where it could be lost, it becomes a really big deal," she said, once we finally connected by phone. "But, I'm so excited to have our wine list recognized."
The Oregon Wine A-List Awards recognize restaurants not just in Oregon but around the world that feature and celebrate Oregon wines. The Palm Court at the Geiser Grand is one of six in Central and Eastern Oregon to receive the honor this year, but the only one to win the Regional Spotlight Award, and also the most remote in relation to the rest of the state — the nearest A-List honorees include 900 Wall, The Grille at Crosswater at Sunriver Resort, Ariana, Zydeco Kitchen and Greg's Grill, all in Bend, approximately a four-hour drive.
The Regional Spotlight is reserved for restaurants offering more than 30 percent of their wines coming from more than two of the four major growing regions in Oregon. Barbara keeps about three dozen labels on her wine list, the majority from Oregon.
Palm Court's receipt of the special award is especially noteworthy, considering Baker City is so far off the regular path of distributors. For this reason, she goes directly to the producers, which makes the difference in her selection.
"Portland distributors just don't come out here," Barbara said. "We're doing direct relationships with so many wineries; half my inventory comes from me filling my SUV with cases from Oregon wineries."
The other half comes from producers making the trip to Baker City. But for Barbara, traveling to the vineyards is the best way to shop.
"When you're walking the vineyards, and you're getting your boots muddy, you learn so much about the different varietals, and then you can really choose the best wines for your guests and for your menu," she said. "You'll learn so much more than you would sitting in an office with a distributor."
Along with historic preservation and now hospitality, she's been interested in wines "her entire adult life," having attended Oregon Pinot Camp in 1993. But finding herself so far from the urban centers in Oregon has helped her raise her standards, and to make it happen herself.
"When you're remote, you've got to think outside the box," she said. "And if you have a distributor doing all your work, you won't find what works for your customers."
She also said her remote setting gives her "opportunities for excellence," she couldn't achieve in an urban setting.
Such distance, and a loyalty to the flavor of the region, she believes defines dining at the Palm Court, In fact, she says even her kitchen staff are home grown.
"They're all local boys who made good in our kitchen," she said. "They went off to culinary school and came back to work here. It's a great team of chefs, and the kitchen's a plenty happy place. It's nothing like 'Kitchen Confidential.'"
Barbara locally sources her food, with her chef team designing the menu based on seasonal ingredients from area producers. And, of course, there's the beef.
"This is cattle country," she said.
Along with the prime cuts of beef, she soon plans to introduce grass-fed buffalo to the menu.
But for all the effort to amplify the local flavor and talent, and driving her SUV to select her wines, Barbara says she was completely surprised to learn she'd won the award.
"I don't know how they found out that we work so hard to get our wines," she said.
As a testament to the remote Western town spirit of Baker City, Barbara learned of the award when Travis Cook of Copper Belt Winery ran across the street with a copy of OWP, shouting she'd won. To celebrate, they're planning their first-ever winemaker's dinner on April 8 at the hotel.
"I'm ready to shout it from the rooftops," Barbara said.
Presented by Oregon Wine Press and the Oregon Wine Board, the Oregon Wine A-List Awards recognize restaurants across the world displaying enthusiasm for Oregon wine and a deep appreciation of the diverse regions, varietals and producers of Oregon. For a complete list of Oregon Wine A-List Award recipients, visit www.oregonwine.org/a-list.
Neil Zawicki is a freelance writer who, in his spare time, loves to study history, paint and play his guitar. He lives in Albany with his wife and four children.