A Bitter Beginning
Introducing Oregon's first fernet
Intriguingly aromatic and bitter, fernet is typically somewhat an acquired taste. In fact, it's one of those beverages most of your friends probably say they don't like. But maybe that's all the more reason to drink it. Much like a hoppy beer or peaty Hyland Scotch, it takes a bit of work to develop a lasting relationship with the bitter and boozy fernet — and by work, I mean repeated tastings.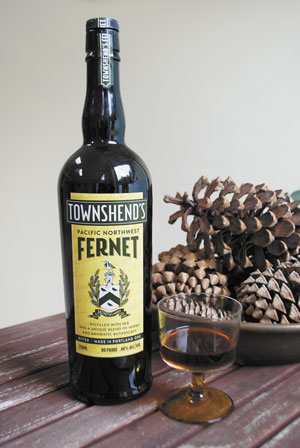 Fernet (pronounced fehr-NET) is a type of amaro — which means "bitter" in Italian. Similar in nature to a tincture, it's an aromatic infusion of alcohol, herbs and botanicals historically created for curative measures or as a digestif following a rich meal or a long night of over-indulgence. In Italy, the working-class has been known to start their day with an uplifting caffé corretto, an espresso with a dash of booze, often fernet. With higher alcohol and less sugar than other amaros, the spirit also lends itself to cocktails.
Over the years, craft mixologists and connoisseurs with a palate for complexity have developed a deeper appreciation of medicinal spirits, using them in supporting roles in their vintage cocktail programs; so much so, amaro-devoted bars are popping up from coast to coast — check out The Solo Club and Americano in Portland or Amor y Amargo in New York City.
In the '90s, wine and spirits importer Wilson Daniels began importing one of the oldest Italian fernets, Fernet Branca, which already had a cult following among some of San Francisco's finest bartenders. Perhaps its allure was Fernet Branca's relative obscurity or its availability during Prohibition, or maybe it was the Bay Area's large Italian immigrant population making it so desirable. Whatever the reason, this particular spirit helped spark the beginning of the craft cocktail renaissance featuring vintage concoctions made with trendsetters Cynar, absinthe and Campari.
In June, Townshend's Tea Company released a fernet through its own Thomas & Sons Distillery. It is the first commercial bottling of its kind in the Pacific Northwest. Master Distiller Seth O'Malley says everything in his fernet is made from scratch, using his own locally distilled tea spirits — not tea-infused neutral spirits created somewhere else.
"This gives us an extra element of control, knowing there is nothing in the bottle except the tea, sugar, spices, herbs and botanicals we put there," O'Malley said.
With a prompt processing time, just one month, Townshend's has been able to refine the recipe via small batches. After about two years of tweaks — and about 25 prototypes literally down the drain in the pursuit of perfection — O'Malley's mission has been to create an unorthodox version of the spirit.
"I want it to taste like the Pacific Northwest, with a tip of the hat to traditional old-school Fernet," he said.
While O'Malley is a fan of classic fernet, he finds the ingredients reflective of this region, such as hops and Douglas fir, perfectly complementary to fernet. Among the 30 or so different botanicals in each bottle, O'Malley also sources some of those ingredients from exotic places outside the area, such as Africa, the Balkans, China and Australia. O'Malley enjoys describing what goes into the bottle, but he doesn't reveal all the elements. Exact recipes for fernet have a lengthy tradition of secrecy, being handing down from one generation to the next.
He says with a coy smile, "You don't want to give it all away."
Townshends Fernet is available in selected retail establishments, at the Thomas & Son's Portland tasting room or mixed in tasty cocktails at the following restaurants: The Solo Club, a recently opened bitters- and amaro-focused bar in NW Portland featuring Townshend's Fernet and Coke Hi-Ball, a popular drink in Argentina; and Americano, a coffee shop by day and a bitters bar by night.
Tasting Notes
Townshends Fernet: Think lumberjack. Dark, complicated and a bit rough around the edges, it's resinous and forest-y with pine tar, birch bark and hops. You can practically taste the iconic beard and plaid flannel shirt. Whether it's love at first sip or after a few rounds, before too long. you could very well become part of the fernet cult.