Perfect Play List 2011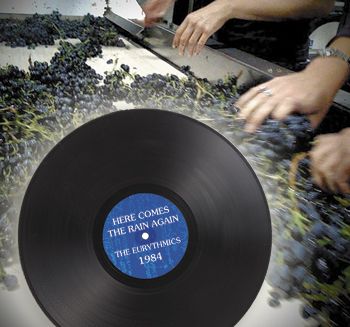 By Leah Jorgensen
In most wineries, music is an integral part of harvest. It's the stuff that can cause some of the greatest harmonies or rifts in the winery. In fact, there are winemakers known for inquiring about music tastes before hiring interns in an effort to strike a mood balance. What rings true for most winemaking teams is there's a change of music in the queue specific to different stages of crush, also paying close attention to the timing within a very long shift.
Jesse Skiles of Fausse Piste Winery in Portland says he likes LCD Soundsystem's Sound of Silver for sorting, Das Racist's Girl for late night pressing, and Daft Punk's One More Time for punch downs.
Remy Drabkin of Remy Wines in McMinnville also divides her music among duties.
"For those early morning punch downs (and the late night ones, too) I like to listen to something with a little kick, like Blue Orchid by the White Stripes, Take Off Your Clothes by Morningwood and Add It Up by the Violent Femmes," Drabkin said. "But for late night press loads — when you are tired, happy and angry at the same time, and you've reached that point when your eyeballs stay open on their own because of the pots of coffee and irregular eating schedule — that is usually when I listen to I Wanna Holler (but the town's too small) by The Detroit Cobras."
According to Patrick Reuter of Dominio IV Wines in McMinnville, "We put on a set of James Brown about the time in the evening when all things need to get cleaned up and put away. This takes at least an hour and James takes us all the way home. Otherwise it is Wilco for mood and a good groove, Toots and the Maytals — a personal favorite — for bringing a little life into the workday, and then some of that ambient electro music that makes you think you are working in a modern hotel lobby."
Reuter pointed out that his crew tends to seek out long sets, adding to the overall good feelings in the cellar. Todd Hansen of Longplay Wines in Newberg does the same.
"When we were bottling my 2010s at 12th & Maple, the Sirius vinyl/classic rock radio station was playing CSNY, Zeppelin, The Stones, Lynyrd Skynyrd, Creedence, The Eagles… After about an hour, I just got so sick of it. Where are the B-sides?!" That said, Hansen says he can never get enough Jimi Hendrix — Band of Gypsys, Electric Ladyland, Plays Monterey, Live at Royal Albert."
Adjusting the selections to reflect the vintage is another approach.
"This year I'm thinking of a fairly hardcore playlist that reflects the spirit of this vintage," said Herb Quady of Quady North and Troon Vineyard in the Applegate Valley. "If we were in 2006 or 2008, I'd have a more soulful set with Al Green and Nina Simone. This year I feel like we need to have a defiant mood. I'm not taking any of Mother Nature's crap. We'll be listening to songs like Darts of Pleasure by Franz Ferdinand, No Buses by Arctic Monkeys, Everlong by Foo Fighters and Tequila Sundae by Urge Overkill — this rocks the sorting line.
Quady continued, "Like I said, it needs to be rockin' and edgy, but that's the kind of vintage we've got; and my crew needs to feel like they're on a mission."
Crush 2011 Playlist
A mix of ambient, hard-rocking and get-up-and-move sounds found in some of Oregon's cellars and during this year's harvest.
Blue Orchid by The White Stripes
Long Time by Cake
Voodoo Chile by Jimi Hendrix
Karma Police by Radiohead
I Love My Label by Wilco
Phantom Limb by The Shins
Whirring by The Joy Formidable
Mirror People by Love and Rockets
Set Fire to the Rain by Adele
Holocene by Bon Iver
Lay Down in Darkness by Moby
West Coast by Coconut Records
Junk of the Heart by The Kooks
Pumped Up Kicks by Foster the People
Young Blood by The Naked & Famous
Starlight by Muse
The Edge of Glory by Lady Gaga
Got It All by Portugal. The Man
You're A Tourist by Death Cab for Cutie
The Calamity Song by The Decemberists
Hiphopopotamus vs. Rhymenoceros by Flight of the Conchords
One More Time by Daft Punk
Keep Your Eyes Ahead by Helio Sequence
Home by Edward Sharpe & The Magnetic Zeros
Rubber Wheels by Jackstraw
Sail Awolnation by I Wanna Holler (but the town's too small)
The Detroit Cobras by Alcoholic Floater
Prisoner of Society by The Living End
Walk by Foo Fighters
Can't Stop by Red Hot Chili Peppers